3. If prompted, select the Windows 8 that you want to refresh: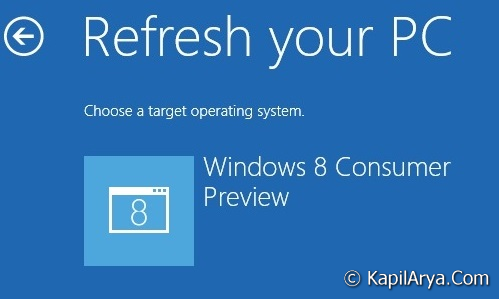 4. Finally click Refresh:

After finishing you can log back to refreshed Windows 8, 8.1.
If any apps were removed during the refresh, you will find a Removed Apps.html file on the desktop detailing what it removed and at what time.
You will also now have a Windows.old folder that has been placed in the root directory of the Windows 8 drive that contains a copy of the previous Windows 8 installation before it was refreshed. This folder can be quite large in size, so the tutorial below will show you how to delete it if you like:
[How To] Delete "Windows.old" Folder In Windows 8 Using Elevated Command Prompt
Read following articles if you can't Refresh:
1. There was a problem refreshing your PC. No changes were made.
2. The drive where Windows is installed is locked. Unlock the drive and try again.
Hope you find the article useful, we'd like to help in your queries!