Using various sign-in options available for your Windows 10, you can enhance the security of your account. One of these sign-in options available to us is setting up a PIN. We've already seen how to set up, change or remove your PIN in Windows 8 or later, in following guide:
How to set up, change PIN in Windows 8 or later
Now recently one of the reader emailed me a query in which he was not able to change his existing PIN on a Windows 10 running machine. Whenever he tries to change the PIN, following error message appears:
Something Went Wrong. Try Again Later.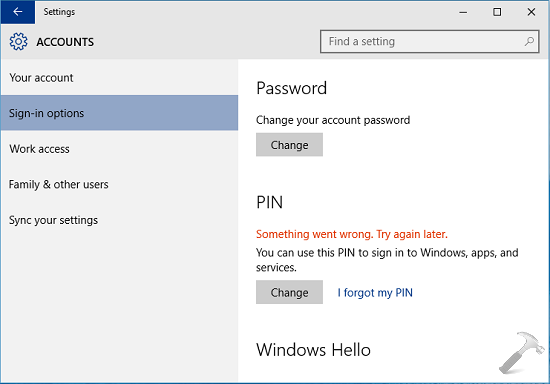 In this case, he was able sign in as usual using the traditional password and Picture password. I suggested him to following ways to solve the issue:
1. Asked to change the Microsoft account password and verify the identity again on the system
2. Switch to local account from Microsoft account and vice versa
3. Try creating a new user account and set up a PIN for that.
Of these suggestions, only third point worked for him. But he was not satisfied with that since he don't want to create another account and move stuff for just to let PIN sign-in working. Also he was able to logon perfectly using other sign-in options available.
So in case, if you're also facing this issue, here is how you can solve it:
FIX : "Something Went Wrong. Try Again Later." While Changing PIN In Windows 10
1. Navigate to PC Settings -> Accounts -> Sign-in options. Click on I forgot my PIN link.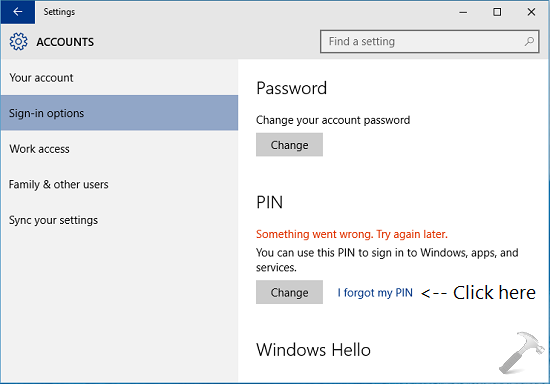 2. Next, click on the Continue button in the Are you sure you forgot your PIN? screen.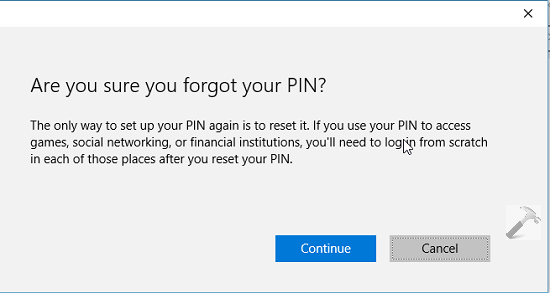 3. You can now add a new PIN and click OK.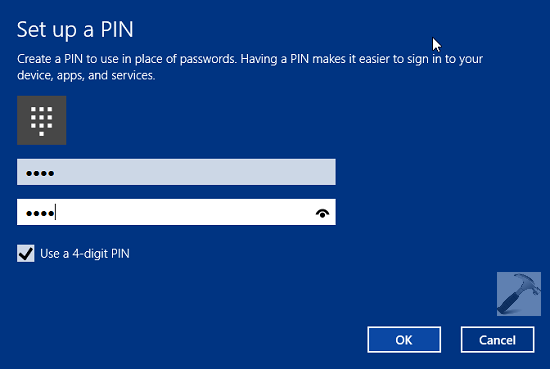 After adding new PIN, restart the machine to verify, and you'll find that everything is working fine, consequently the error would disappear as well.
Hope this helps!

Also check: PIN not working in Windows 10.