The icons in the notifications area of taskbar helps to easily manage the network, volume, power etc. settings and everyone know this. Consider a scenario, when you have network icon missing from this section. In such a case, you need to move to Control Panel or PC Settings to manage the network connections, which is quite tedious. Recently, we came around the problem of missing icons from the notifications area of taskbar on latest build of Windows 10.

Thus it now clear that missing icons creates a task of pain and now one want to face this issue. Hence in order to restore the missing icons, you can try follow steps and see if they helps you in restoration:
FIX : System Icons Missing From Taskbar In Windows 10
1. Open PC Settings app in Windows 10. Navigate System -> Notifications & actions -> Turn system icons on or off. Alternatively, you can click upward arrow button in taskbar notification area, click Customize then select Turn system icons on or off. Here you can turn on the options corresponding to missing icons.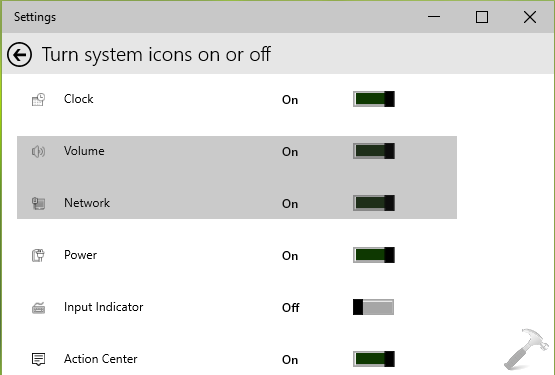 If the options are greyed out or you can't change them in above shown window, then you have to perform registry manipulation mentioned below.
Registry Disclaimer: The further steps will involve registry manipulation. Making mistakes while manipulating registry could affect your system adversely. So be careful while editing registry entries and create a System Restore point first.
2. Press

+ R and put regedit in Run dialog box to open Registry Editor (if you're not familiar with Registry Editor, then click here). Click OK.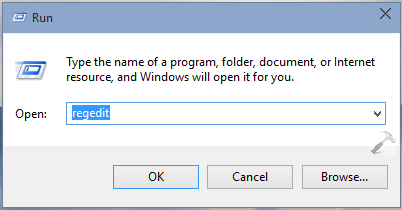 3. In the left pane of Registry Editor, navigate here:
HKEY_CURRENT_USER\Software\Classes\Local Settings\Software\Microsoft\Windows\CurrentVersion\TrayNotify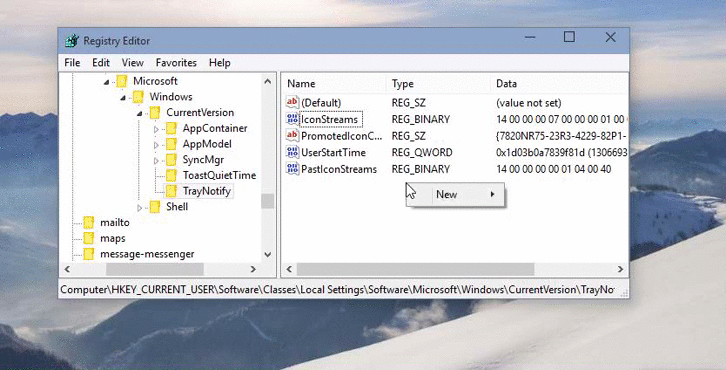 4. In the left pane of this registry location, highlight TrayNotify key and right click it, select Export. So we have successfully backup-ed the registry key. Now highlight the same key and in the right pane, delete the IconStreams and PastIconStreams named registry DWORDs. Once you have done that, close Registry Editor. Reboot the machine to get missing icons restored.
Let us know if this worked for you. If you're missing Safely Remove Hardware and Eject Media icon, go here.