System File Checker (SFC) has been a great tool for Windows users to fix various issues just using some simple commands. You can read all about running SFC commands and analyzing results in various scenarios, in following article:
How to use System File Checker to repair Windows
If you try to run SFC scan on Command Prompt at boot, sometimes it won't run. I tried to run it on a Windows 10 machine, for which startup repair has failed. Thus as I said, SFC didn't initiated, and instead gives following error:
There is system repair pending which requires reboot to complete. Restart Windows and run SFC again.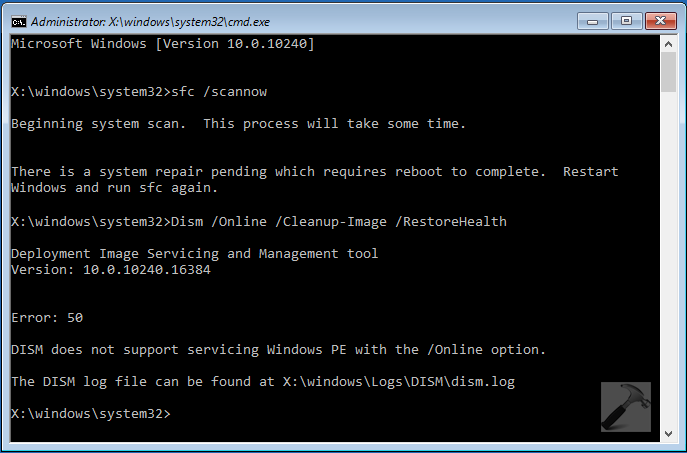 On the other hand, if I try to give a shot to DISM (Deployment Image Servicing and Management) restore health command, then it doesn't works as well with Error 50:
DISM doesn't support servicing Windows PE with /Online option.
Thus in such a case when the startup repair is not working, SFC is not operating and your system can't boot at all, the last option we have is to reinstall Windows 10 without affecting personal files and apps. But hang on, if you're really going for re-installation, why not try some options which can still resolve this issue in few simple steps. Those options are mentioned here, do try them as per your convenience.
FIX : There Is System Repair Pending Which Requires Reboot To Complete. Restart Windows And Run SFC Again
FIX 1 : Using DISM command
Although the DISM restore health command didn't worked, but there is another DISM command which will help us here. Actually, the system checks for pending system repair files when initiated SFC. Thus, if we could delete that/those pending file(s), SFC would work.
Here is how you delete pending system repair file.
1. Open Command Prompt at boot.
2. Type following command and hit Enter key:
dism.exe /image:

c:

\ /cleanup-image /revertpendingactions
*Substitute C: with your system root drive.

You'll see The operation completed successfully message when execution finishes. You can now try to run SFC scan and repair your system using it, no issues will be countered. In case if problem still persists, try FIX 2.
FIX 2 : Using registry manipulation
There is a registry key for pending system repair, which Windows always checks when you initiate SFC at boot. So you need to delete that key as well, if deleting only the pending files not works for you. Try these steps for that:
1. Open Command Prompt at boot (refer steps 1-4.d of this article)
2. Type regedit command and hit Enter key to open Registry Editor at boot.
3. Navigate to following registry key:
HKEY_LOCAL_MACHINE\SOFTWARE\Microsoft\Windows\CurrentVersion\RebootPending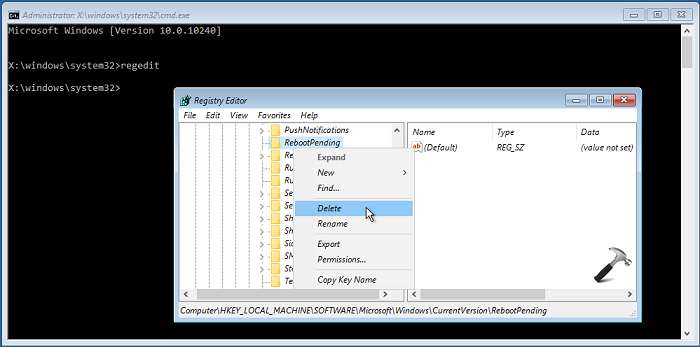 4. Right click on RebootPending key and select Delete. Provide your confirmation with Yes here:

Minimize Registry Editor and now try to run SFC scan, it should propagate as expected.
Hope this helps! Checkout this article if you're trapped into Automatic repair loop on your Windows system.