Previously, we've seen how to cast from Windows 10 to your Samsung Smart TV. Today, in this article, we'll discuss what to do if you're unable to cast to your device from Windows 10. This article will help you to fix these symptoms:
If you're unable to cast videos/pictures/music to your TV screen from Windows 10
If you're unable to cast to Xbox devices from Windows 10
When cast to device is not working with Windows 10, you are expected to receive this error message:
Unexpected device error
An unexpected device error occurred on your device. Restart the device, and then try again.
If you can't resolve the issue, a device update might be required. Please contact the device manufacturer for the latest updates.
HRESULT: 0xc00dc352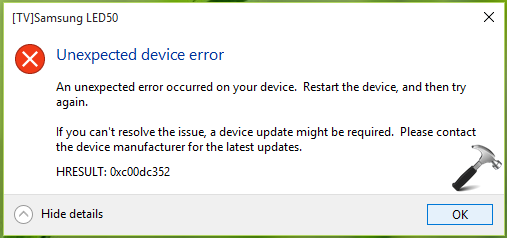 To resolve this problem, you should go with the hint provided in error message itself, that is to update the device to which you're casting. May be the media you're casting is supported after upgrading the device. In case if the device is up-to-date, these suggestions may help you to bypass this error message:
FIX : Unexpected Device Error While Casting From Windows 10
FIX 1 – Recheck The Content You Want To Cast
One main reason that may contribute to this issue is the type of content you're casting to device. Please ensure following points:
Content should not be bulk in size, for example, content above 500MB may cause unexpected device error on slow networks
It should have that format which your casting device can support
The content file shouldn't be corrupted, you can check this by playing it on Windows 10 first and they try to cast it.
I hope correcting these points may help you to fix this problem. In case, if issue still persists, try FIX 2.
FIX 2 – Using Hardware And Devices Troubleshooter
To resolve this problem, you can also take the advantage of in-built troubleshooters available in Windows 10. For this case, you should run Hardware and Devices troubleshooter to automatically found and fix issues:
Steps to run Hardware and Devices troubleshooter in Windows 10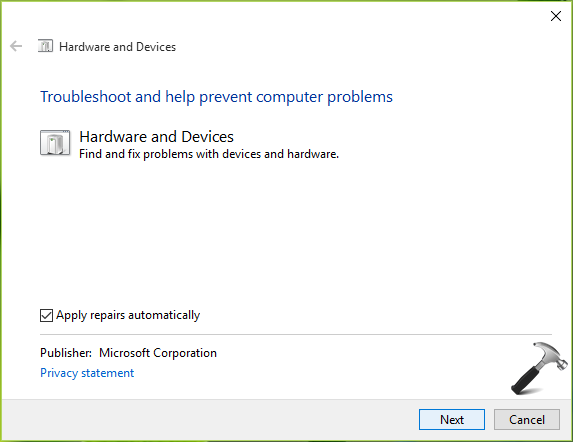 I hope after running the troubleshooter, you would be able to resolve this issue.
Hope this helps!