We all know that Windows Experience Index (WEI) is the scale that rates a computer between 1.1 to 9.9 after evaluating performance of key hardware components such as the CPU, disk drive, and graphics card. This feature uses WEI engine to calculate the performance of device running Windows. Unfortunately, the WEI feature has been removed by Microsoft in Windows 8.1 due to less usage, but the good thing is that WEI engine remained embedded in the current stable release, Windows 8.1. So if we have the UI program linked with this WEI engine, we would be able to obtain WEI scores for the Windows 8.1 devices as well.
Use "WinAero WEI Tool" To Evaluate Windows Experience Index On Windows 8.1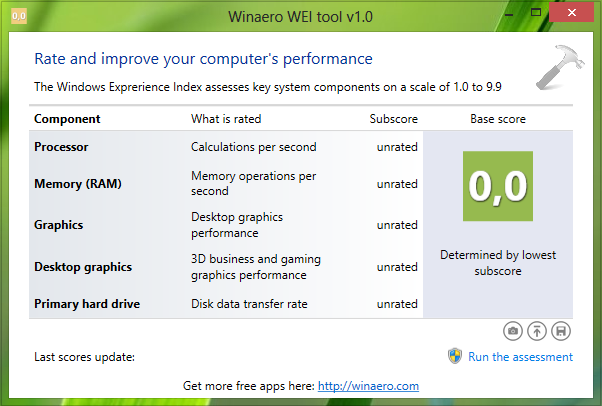 Meet the "WinAero WEI Tool", created by our friend "WinAero", which would provide you the UI for calculation of WEI scores so that you can rate the performance of your Windows 8.1 system. It is a freeware plus works on both 32-bit and 64-bit Windows editions. This ultra small portable utility offers following features:
Calculation and re-calculation of assessments and scores.
The exact genuine WEI look and feel.
The real, actual tests and assessments progress and status.
The ability to save a screenshot of your WEI as a PNG file.
The ability to take a screenshot of your WEI and upload it to ImgUr with one click.
The ability to save your WEI table to an HTML file.
The background of your WEI score follows the window frame color for a cool appearance.
You can download the "WinAero WEI Tool" at http://winaero.com/download.php?view.79.
Above link will led you to the zip file which contains the tool. So simply extract the zip file using decompression software and double click on the WEI named application icon and you're ready to go!
This video illustrates the tool in action:
Hope you find the tool useful!