For users on Windows 8.1 and Windows 7 SP1, Microsoft provided them free upgrade to Windows 10 via Get Windows 10 app. This upgrade assistant app downloads Windows 10 and installs on the system eligible for the upgrade. However, for miscellaneous reasons, some users may not able to complete upgrade. While upgrading, some systems may stuck at Working on it message. From here the upgrade seems to be ceased and waiting time becomes indefinite.
Here is the screenshot illustrating Working on it message under Get Windows 10 app: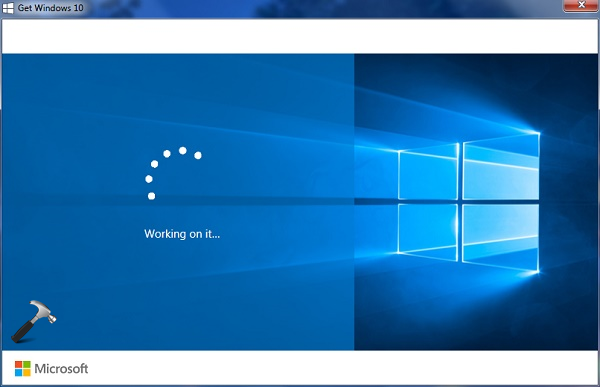 This could be one of the frustrating issue since if it hangs while downloading, it may eat up your valuable data bandwidth. If it happens even after downloading and while installing, you're at lose and you may need to start everything from scratch.
In such situation, I generally prefer to download Windows 10 ISO file and use it to upgrade. You may also try to make clean install, which is fair alternative to this problem. But before trying other alternative, just give a shot to the steps mentioned below. May be they resolve the issue, and you go ahead with your free upgrade. Here is what to do:
FIX : Windows 10 Working On It Message While Upgrade
1. Close the Get Windows 10 app using Task Manager, so it the app is not running even in background.
2. Now go to Control Panel > System and Security > Windows Update. Then see whether the Windows 10 update is listed there. If you don't see it listed there, click Check for updates link on the same window.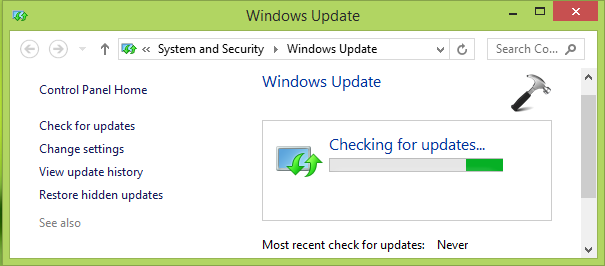 3. Open Get Windows 10 app now and check the status of upgrade. It should begin installation now. The installation time depends upon your computer configuration, so you've to keep patience at this stage, and let the upgrade assistant do its work.
Let us know if issue still persists!