We've discussed various network issues for Windows 10 in our past, which you can read from this page:
Read fixes regarding network problems
This article addresses a new issue regarding proxy settings while connecting to the Internet. In this case, users may find trouble with their network connection which results in intermittent connectivity or limited connection. If you run Windows  Network Diagnostics or Network Adapter troubleshooter, you'll see this unresolved message:
Windows could not automatically detect this network's proxy settings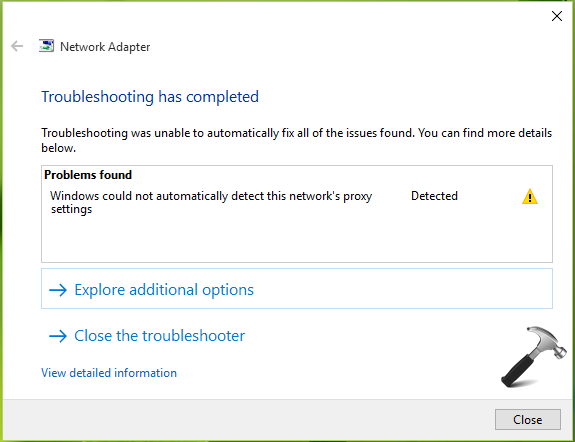 If you're also victim of this weird problem, please confirm following things and see if they helps:
Check your system date and time and make sure they're correctly set
Update your network drivers, replace faulty network card, if it exists (verify this with the help of hardware technician)
Temporarily uninstall third-party antivirus tools
There is no selective fix which could help you to solve this problem. But we've sorted a few fixes which have generally helped users till now to solve this hiccup. Those collection of fixes are enlisted here. They may individually or collectively solve this issue for you.
FIX : Windows Could Not Automatically Detect This Network's Proxy Settings
FIX 1 – Disable Proxy Settings
This problem could mainly occur if there is no need of proxy settings for your connection. If this is true, disabling proxy settings should help to resolve the problem.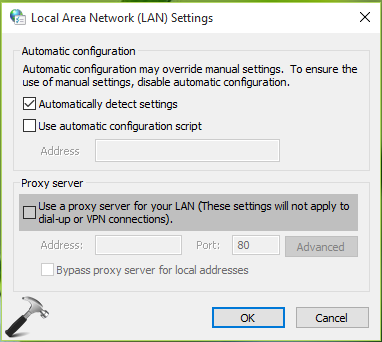 Here are complete steps to disable proxy settings in Windows:
Check complete steps to disable proxy settings in Windows 10
FIX 2 – Reset Windows Sockets
Another factor that may cause this issue could be corruption of Windows Sockets registry entries. If those registry entries are corrupted, or missing, you can't connect your machine to web at all because the network protocols are directly dependent upon them.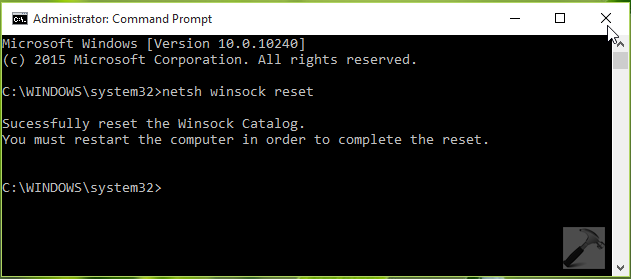 This detailed post will help you to reset Windows Sockets registry entries:
Read complete fix to reset Windows Sockets registry entries
Hope this helps! See this fix if you're facing invalid IP problem with Windows.