Networking issues in Windows aren't limited to working of either router, DNS server or your system drivers but depends upon registry configuration of your machine too. So if the network registry entries are corrupted or missing, you may not able to connect to the web.
This article addresses one such problem, where you can't get online due to malfunctioning of registry entries. In this scenario, if you perform network troubleshooting using Network Adapter troubleshooter, you may receive this error:
One or more network protocols are missing on this computer
Windows Sockets registry entries required for network connectivity are missing.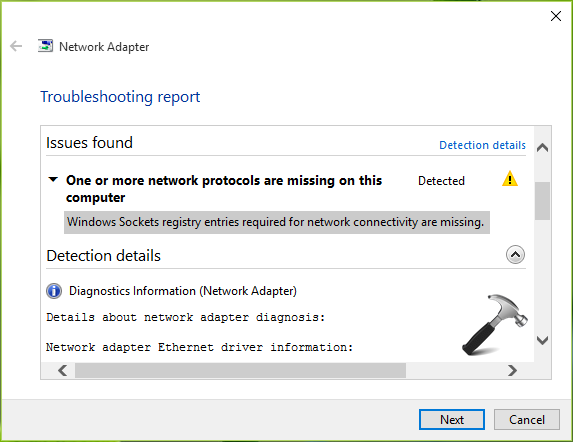 The error in this troubleshooting report clearly indicates that Windows Sockets (Winsock and Winsock2 subways) registry entries are not working properly. Windows Sockets is basically a programming interface and supporting program that manages incoming and outgoing network requests in Windows OS. So it is obvious, if the network requests aren't processed, the network won't work at all. You can try following fixes to solve this problem.
FIX : Windows Sockets Registry Entries Required For Network Connectivity Are Missing In Windows 10/8.1/8/7
FIX 1 – Reset Winsock Using Command Prompt
The most simple approach that is suggested to solve this problem is to reset Windows Sockets entries using Command Prompt. So open administrative Command Prompt and type following command and hit Enter key then:
netsh winsock reset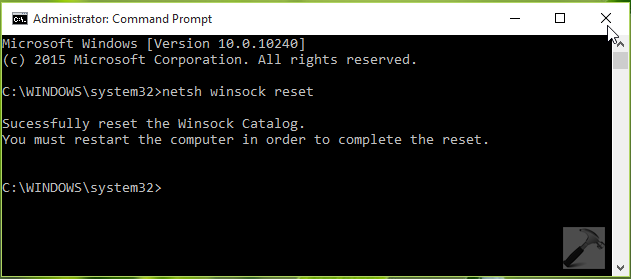 Once the command is successfully executed, you'll be asked to reboot, in order to complete the reset. So do the needful and after restarting the machine, check the status of problem. If the issue got resolved, you're good to go. In case if the problem still persists, you may need to reset Windows Sockets registry manually, because it may have affected TCP/IP settings as well. FIX 2 shares you the manual steps.
FIX 2 – Delete Winsock Registry And Reinstall TCP/IP
Registry Disclaimer: The further steps will involve registry manipulation. Making mistakes while manipulating registry could affect your system adversely. So be careful while editing registry entries and create a System Restore point first.
1. Press

+ R and put regedit in Run dialog box to open Registry Editor (if you're not familiar with Registry Editor, then click here). Click OK.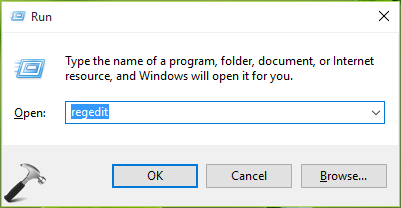 2. In the left pane of Registry Editor, navigate to following registry key:
HKEY_LOCAL_MACHINE\SYSTEM\CurrentControlSet\Services\WinSock2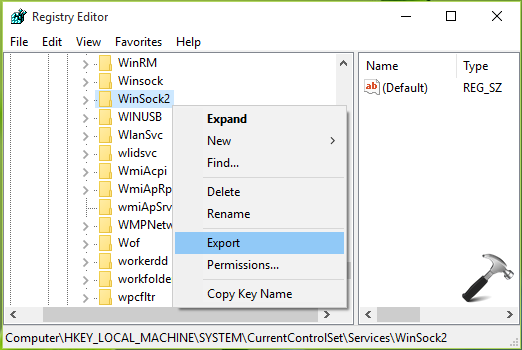 3. At this registry location, right click WinSock2 key and select Export. Save the backup of the registry entry to a suitable location. Then again do a right on same registry key, and select Delete.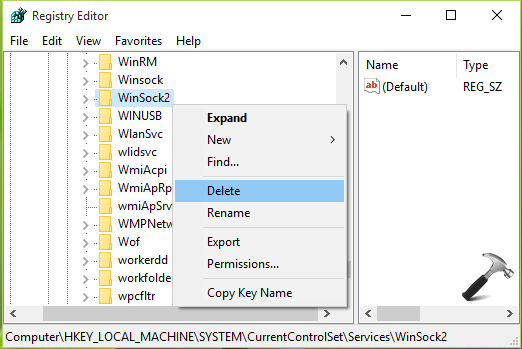 4. Perform step 3 with WinSock (HKEY_LOCAL_MACHINE\SYSTEM\CurrentControlSet\Services\Winsock) registry key as well. Close Registry Editor.
5. Open Control Panel and navigate to Network and Internet > Network Connections. Here, do a right click on your Local Area Connection or Ethernet connection and select Properties.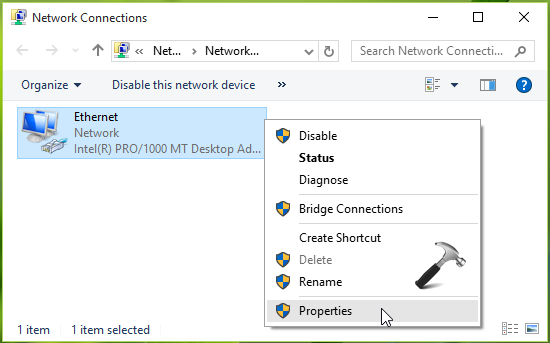 6. In the Local Area Connection or Ethernet connection property sheet, click Install.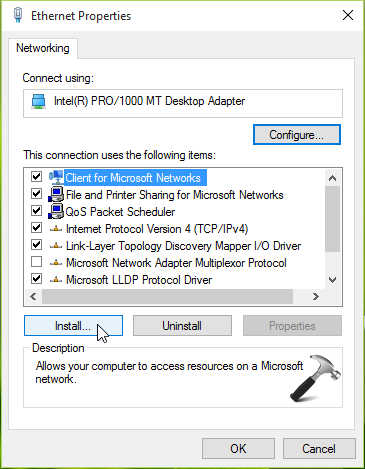 7. Next, select Protocol under Select Network Feature Type and click Add.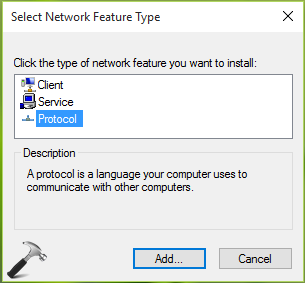 8. Then click Have Disk in Select Network Protocol window.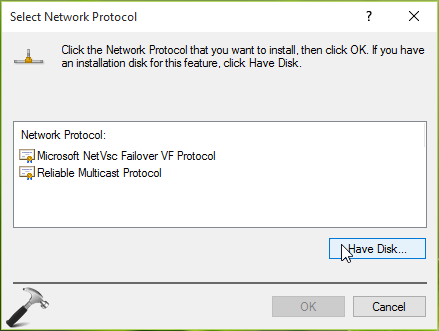 9. Moving on, in the Install From Disk window, type C:\Windows\inf for Copy manufacturer's files from section. Click OK.
*Substitute C: with your system root drive.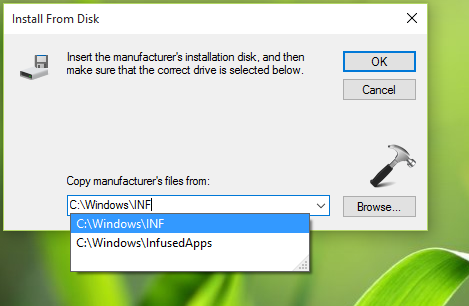 10. Finally, in the Select Network Protocol window which populates list of Internet Protocols, select Internet Protocol (TCP/IP) – Tunnels. Click OK. Close Network and Sharing Center, restart your machine.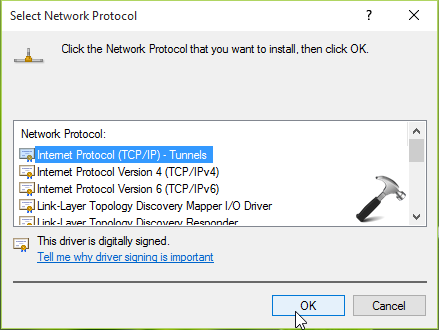 In this way, the registry configuration is re-created after reboot, which ultimately solves the problem.
FIX 3 – From Feedback/Comments (UPDATE: 5 APRIL 2016)

Many users after reading this fix has reported that they could not go beyond step 10 in FIX 2 and hence they can't follow it completely. When they click OK in step 10, they receive following message:
Could not add the requested feature. The error is: This program is blocked by group policy. For more information, contact your system administrator.

If you also get this message, follow this:
1. Download Windows Sockets registry files imported from another Windows OS (we've done it from Windows 8.1 64-bit machine) using following links:
Download Winsock registry file
Download WinSock2 registry file
2. Now open Registry Editor on machine having issue, click File > Import. Browse for the above downloaded files and click OK.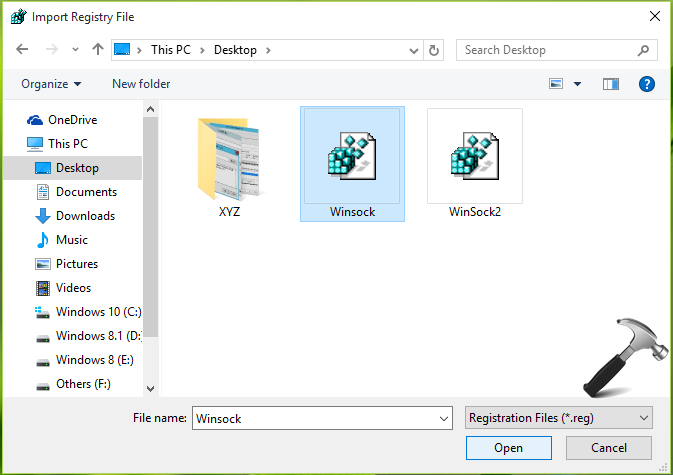 After importing both registry files, reboot the machine and retry FIX 2. This time you won't face any error and hence you could complete FIX 2 which solves the problem finally.
Checkout illustration of this method in following video:
Hope something helps!