NOTE:
As of 9 July 2018,
Microsoft
has broken the link to download
Start Menu troubleshooter
. We regret the inconvenience. If you've any issue with
Start Menu
, you can
re-register
it to get fix.
With Windows 10, Microsoft restored the Start Menu that they taken away with Windows 8. The restored Start Menu is much robust and capable of housing Desktop plus Universal App entries. It is tightly integrated with other features like Cortana.
Till now, we have seen different issues regarding Start Menu in Windows 10. Some of them are listed under these links:
FIX : Your Start Menu Isn't Working. We'll Try To Fix It The Next Time You Sign In.
FIX : Start Menu Not Appearing In Windows 10
To fix the issues with Start Menu, we generally re-register it using PowerShell cmdlet:
How To Re-register Start Menu In Windows 10
Download Start Menu Troubleshooter For Windows 10
Microsoft has worked hardly on Start Menu issues and they have now released a dedicated troubleshooter or fix it tool for it. The Start Menu troubleshooter will address following issues on your Windows 10:
Required applications are not installed correctly : Indicates the app which needs your attention to re-register or reinstall.
Permission issues with registry keys : Checks the registry keys for current user and correct its permission if required.
Application manifest is corrupt
You can download Start Menu troubleshooter from Microsoft, using following link:
The link will give you startmenu.diagcab which is a cabinet file. Double clicking on this file simply opens the troubleshooter. You can check Apply repairs automatically and click Next to start troubleshooting.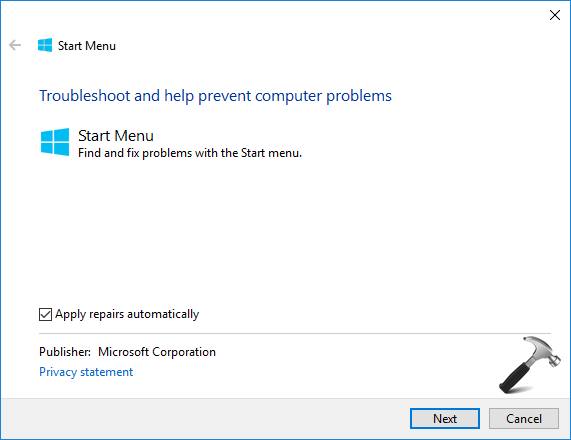 Once the troubleshooting is completed, you'll receive the troubleshooting report containing details of the issues found (if any) and fixes applied.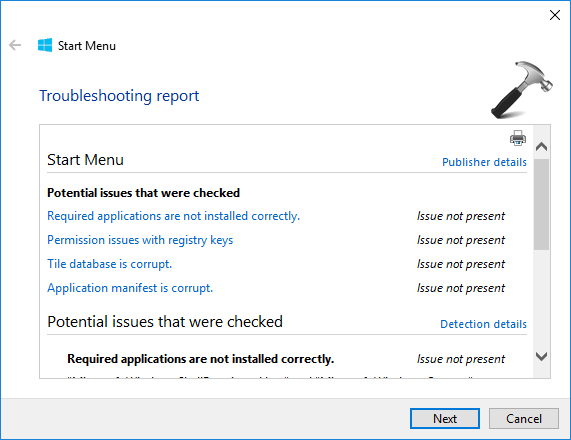 I hope the troubleshooter will resolve your Start Menu issues and fix them!
Also read:
1. How To Use Built-in Troubleshooters In Windows 10
2. Download Microsoft Account & Windows Store Apps Troubleshooters