Start Button is something without which a Windows user can't survive on system. Even Microsoft accepts this fact and they restored back the Start Button in Windows 8.1, which they taken away in Windows 8. With Windows 10, they even restored back the Start Menu which was removed in first desktop touch operating system.
The Start Button in Windows 10 opens the Start Menu when you click or tap it. When you do a right click on it, you get the WIN+X Menu with certain useful options. But we have observed that Start Button is not working correctly for some of the users using Windows 10 OS. According to an user, when he click the Start Button, nothing happens, neither he gets Start Menu nor the Start Screen.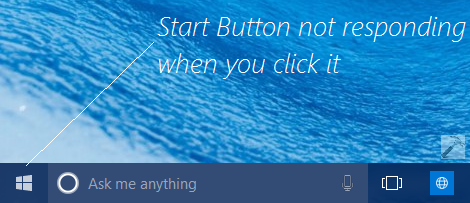 If you're too the victim of this issue, firstly you should try the System File Checker scan to make sure that system files integrity is not broken. In case SFC tells you that system files are in correct form and there are no integrity violations found, you can consider to try following registry manipulation. This may help you to make your Start Button working as expected.
FIX : Start Button Not Working In Windows 10
Registry Disclaimer: The further steps will involve registry manipulation. Making mistakes while manipulating registry could affect your system adversely. So be careful while editing registry entries and create a System Restore point first.
1. Press

+ R and put regedit in Run dialog box to open Registry Editor (if you're not familiar with Registry Editor, then click here). Click OK.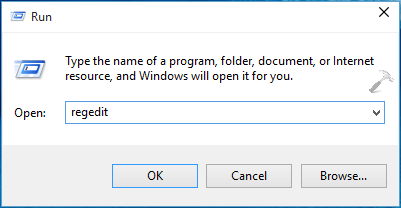 2. In the left pane of Registry Editor, navigate to following registry key:
HKEY_CURRENT_USER\Software\Microsoft\Windows\CurrentVersion\Explorer\Advanced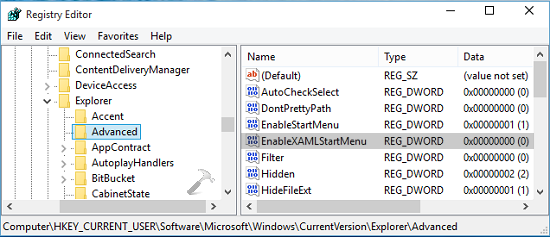 3. In the above shown window, highlight the Advanced key and come to its right pane. Right click there and select New -> DWORD Value. Name the newly created DWORD as EnableXAMLStartMenu. When you create this DWORD, it will automatically have its Value data set to 0. In case, if the DWORD exists already, no need to create anything and change the existing DWORD Value data to 0.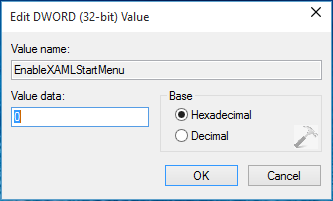 Click OK in Edit DWORD Value box and close Registry Editor and reboot the machine. After restarting system, the Start Button should be functioning as expected: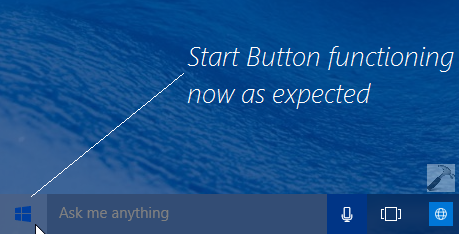 In case, if the issue still persists, try re-registering Start Menu and see if that helps:
Steps to re-register Start Menu in Windows 10
Hope this helps! Don't forgot to read how to make Start Menu simplified in Windows 10.