Start Menu is one of the highlighted feature in Windows 10. The reason is that Microsoft removed Start Menu in Windows 8 and a lot of users asked the 'Redmond software giant' to restore it. The company listened to their consumers and Start Menu finally returned to Windows 10. When you have problems with Start Menu, most of Windows experts will suggest you to run Start Menu troubleshooter mentioned here:
How to download and use Start Menu troubleshooter in Windows 10
However, after running troubleshooter, some of the users found that few detected issues are still present and troubleshooter is unable to fix them. Following is one of those issues:
"Microsoft.Windows.ShellExperienceHost" and "Microsoft.Windows.Cortana" applications need to be installed correctly.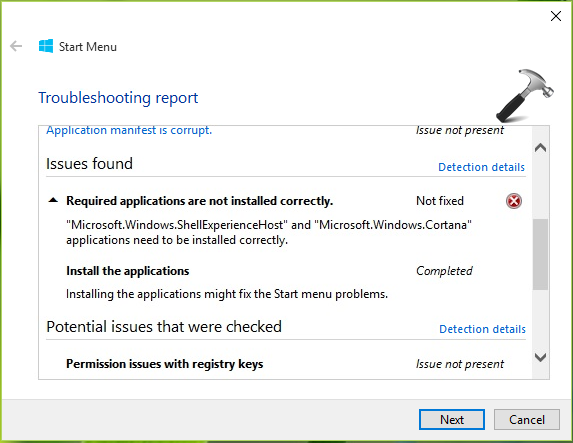 Since the issue is not fixed by troubleshooter, you need to take manual steps to fix it. But how? Well if you've this problem, no need to worry much! You can try these simple suggestions to easily get rid of this problem.
FIX : Microsoft.Windows.ShellExperienceHost And Microsoft.Windows.Cortana Applications Need To Be Installed Correctly In Windows 10
FIX 1 – General Suggestions
1. Run System File Checker scan, if it fails, run DISM commands.
2. Try creating a new user account and check if Start Menu works on that account. If yes, go ahead with that account. If no, read on suggestions mentioned below.
3. Since the issue is with in-built apps installation, we must give a try to re-registering all apps using step 1 & 5 mentioned here.
If the issue still persists, check advanced FIX 2.
FIX 2 – Re-register Start Menu
This problem is can be very easily solved by re-registering Start Menu. The steps required to perform for that are mentioned in our following guide:
Steps to re-register Start Menu in Windows 10
I'm quite sure, after registering Start Menu, if you re-run Start Menu troubleshooter, you'll find that the issue no longer present.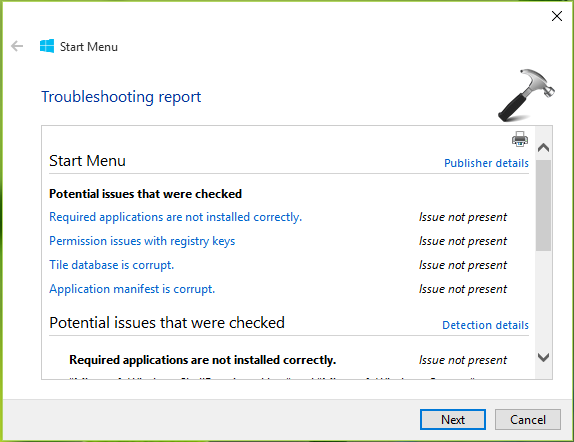 That's it!