Whatever item you delete on your Windows OS, it doesn't deletes permanently and goes to Recycle Bin. Recycle Bin preserves an option to restore the item back, if you want to do so and permanently delete the same item in-case if it is no longer required. But what if your Recycle Bin is not working as expected. In other words, the Recycle Bin on your Windows 10 can be treated as corrupted if:
It no longer displays the items you deleted from File Explorer sections
It launches but crashes or closes itself
It is unable to permanently delete the items
When you try to access corrupted Recycle Bin (assuming Windows is installed on C: drive), following message appears:
The Recycle Bin on C:\ is corrupted. Do you want to empty the Recycle Bin for this drive?

Though you can click on Yes button on this error message and reset Recycle Bin. But in some cases, this message won't appear or clicking Yes button may not solve the problem. And you may keep experiencing earlier mentioned symptoms related to Recycle Bin, which is a system folder ($recycle.bin). Here, you must run System File Checker scan as the first troubleshooting step. If running SFC solves the problem, you're good to go. Else try these steps:
FIX : Corrupted Recycle Bin On Windows 10/8.1/8/7
FYI: Steps mentioned below will permanently delete the files in Recycle Bin.
1. Open administrative Command Prompt.
2. Type following command and press Enter key:
rd /s 

c:

\$recycle.bin
* If you've other drives and Recycle Bin contains data from these drives, you need to run the above mentioned command for those drives by replacing C: with corresponding drive letters.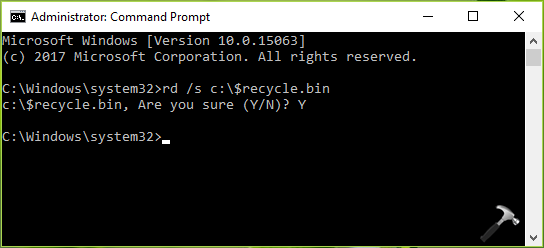 3. You'll be now asked for confirmation with Are you sure (Y/N)? and type Y, press Enter key to finally reset the corrupted Recycle Bin.
After restarting your computer, hope the Recycle Bin will act normally now. If issue still goes on, you can perform Refresh or in-place upgrade to repair Windows 10. Either of these repair options won't affect your data.
Let us know if you still have the issue!