In our previous guide, we shared you about how to enable and use Dynamic lock feature in Windows 10. This article will help you to fix, if Dynamic lock is not working on your Windows 10, even after configuring it.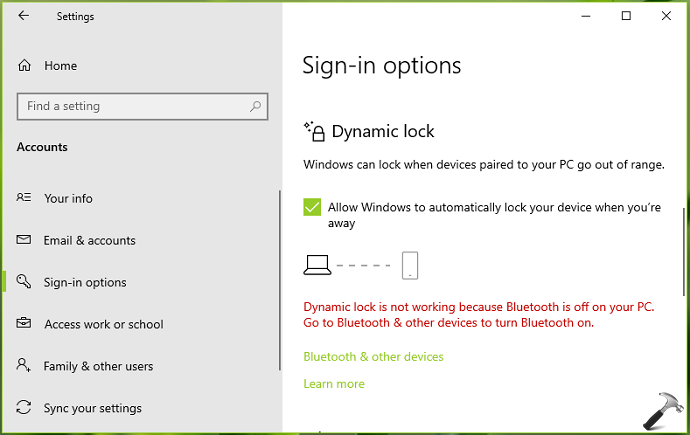 There might be different factors involved due to which Dynamic lock may failed to work, such as:
Bluetooth drivers are outdated
Pairing of Bluetooth devices is broken
The Dynamic lock feature itself is broken
If you're also facing this issue, you can try below mentioned suggestions and see if they helps.
FIX: Dynamic Lock Is Not Working In Windows 10
FIX 1 – Re-configure Bluetooth Devices
1. First of all, remove paired Bluetooth devices and try to re-pair them.
2. Make sure Bluetooth is turned on.
3. Run Bluetooth troubleshooter to find and fix issues automatically with Bluetooth facility.
4. If Bluetooth is completely missing from your Windows 10, refer this fix.
FIX 2 – Reinstall Bluetooth Drivers
First of all you make sure you've latest Bluetooth drivers installed. The working of Dynamic lock feature mainly relies on these Bluetooth drivers drivers. If these drivers are in working condition, Bluetooth functionality will not work as expected and it will contribute in failure of Dynamic lock.
To update your Bluetooth drivers, follow this guide.
To reinstall Bluetooth drivers, follow these steps:
1. Right click Start Button or press

+ X keys and select Device Manager.
2. Locate your Bluetooth device/driver and right click on it, select Uninstall.
3. In the confirmation box appearing next, click OK.
4. Click Action > Scan for hardware changes. This should reinstall Bluetooth drivers or rebooting and check.
5. If issue still persists, follow steps 1-3 and then install latest Bluetooth drivers for your system model from your OEM's website.
FIX 3 – Perform In-place Upgrade
In case if FIX 1 & 2 can't solve your problem, it might be possible that Dynamic lock feature itself is broken. Try performing in-place upgrade and this may solve this issue, finally!
You can report to Windows engineering team via Feedback hub app (press

+ F keys to get this), if Dynamic lock is still not working for you.
Hope something helps!