If you're using latest Windows 10 V1709, i.e. Fall Creators Update, you might be asked to sign-in twice. This is actually the bug which is reported by many users after the release of Windows 10 Fall Creators Update. The issue is already escalated to Microsoft and they're working on a fix that they'll probably implement in upcoming Cumulative Updates.
According to the users, whatever sign-in method they use, they're asked to input the details again. This seems to happen mostly on the machines upgrade from previous Windows 10 edition. As a workaround, some users tried to re-add/update the sign-in info such as password, PIN, Picture Password but still they've the issue.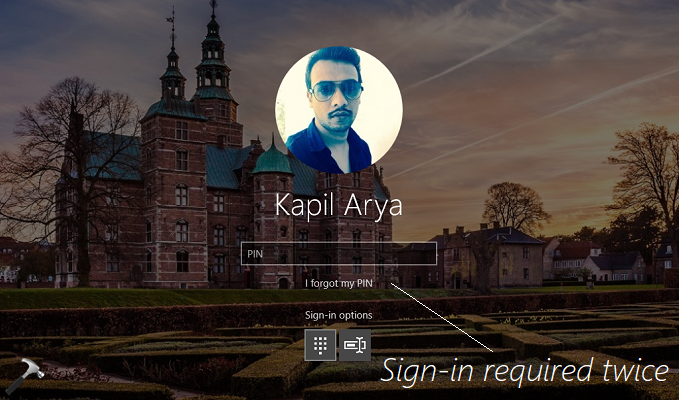 There are few more workarounds to deal this issue as of now. They're mentioned below. Try them and see if they helps you.
FIX: Need To Sign-in Twice On Windows 10 Fall Creators Update
FIX 1 – Via Settings App
1. Right click Start Button or press

+ X keys and select Settings.
2. In the Settings app, navigate to Accounts > Sign-in options.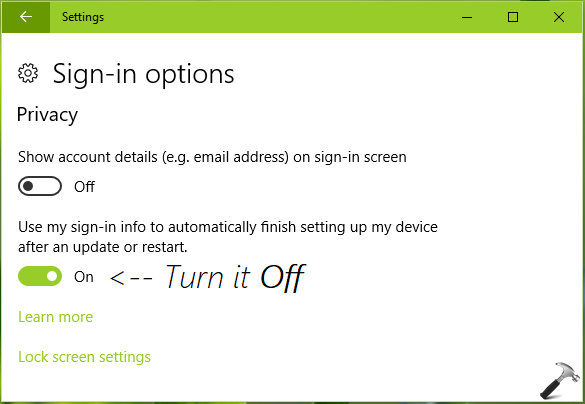 3. On the Sign-in options screen, scroll down and under Privacy section, turn Off the Use my sign in info to automatically finish setting up my device after an update or restart option.
4. Close Settings app and restart the machine, check if the issue is resolved.
If you still face the issue, try FIX 2.
FIX 2 – Via Command Prompt
Another workaround to fix this issue would be prevention of "ChsIME process" from duplicating itself. This is background system process which if duplicates itself at the time of sign-in, you need to re-input credentials. Below mentioned steps will prevent duplication ChsIME process.
1. Open administrative Command Prompt.
2. Type/paste following and press Enter key:
if exist "%SystemRoot%\System32\InputMethod\CHS\ChsIME.exe" ( TAKEOWN /F "%SystemRoot%\System32\InputMethod\CHS\ChsIME.exe" icacls "%SystemRoot%\System32\InputMethod\CHS\ChsIME.exe" /deny "NT AUTHORITY\SYSTEM:RX")

3. Close Command Prompt and reboot. This should fix up the issue. You can verify the results on reboot.
Hope this helps!