We all know that Command Prompt can be used in Windows Preinstallation Environment (Windows PE) and Windows Recovery Environment (Windows RE). To open Command Prompt in Windows RE, you need to boot into Advanced Recovery Options and then select Command Prompt. If your system is not booting, you can repair boot records using Windows PE/RE Command Prompt.

However, in some cases, Command Prompt may not work because of following message in its window:
Not enough memory resources are available to process this command.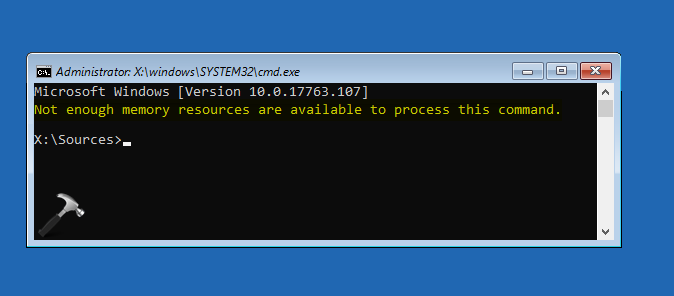 When you've the above line mentioned in Command Prompt window, no matter what operations you try, nothing works. On most of commands, you receive 'Access denied' error. You can't open Boot Configuration Data (BCD) template store and you can't run chkdsk command to repair file corruption. This issue is likely to happen on those devices, whose system files are heavily corrupted, or infected by malware, viruses. If you're facing the problem in Windows PE Command Prompt, it is likely the image file is corrupted and you need to use different image file.
In this case, you can try either of the below mentioned suggestions and see if they helps:
FIX: Not Enough Memory Resources Are Available To Process This Command
FIX 1 – Boot Into Safe Mode
First thing you can try to recover your system is to boot in Safe Mode. The users experienced similar issue got a big relief when they boot into Safe Mode and then reboot to normal mode. With this, the system corruption is repaired successfully and you can use Command Prompt in Windows RE.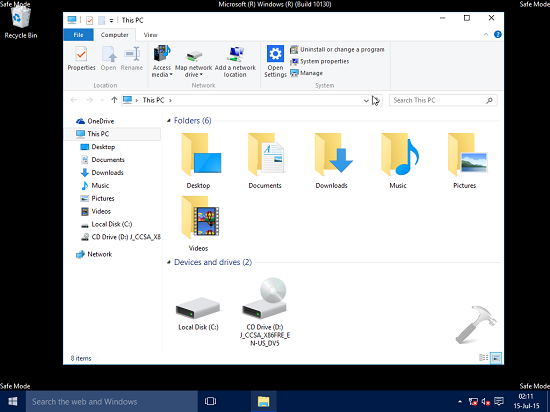 FIX 2 – Perform Repair Upgrade
In case if your system is infected with malware, the suggestion to boot into Safe Mode may not help. So to overcome this issue, you need to perform repair upgrade, which gives you the option to repair your system and keep your data as well.
To perform repair upgrade, you can refer this step-by-step guide:
How to perform repair upgrade in Windows 10
I believe a repair upgrade should solve this issue, finally.
Let us know via your comments, if issue still persists!
FYI: If you're see 'Not enough memory resources are available to process this command' message with Command Prompt in Windows PE/RE for Windows 10 V1803, the message is not real and appears in place of '(c) 2018 Microsoft Corporation. All rights reserved.' Microsoft says, 'the issue occurs because a resource file is not included in the components that are responsible for keeping these copyright strings'. You can ignore the message and Command Prompt will work without any issue.