We often do a right click in Windows to have the context menu which provides us variety of options. But for some users right click in the File Explorer may not work as expected. As a result, some users found that when they right click, the File Explorer crashes or freezes unexpectedly. This would be quite annoying especially if your work employ use of File Explorer to large extent. If you're also victim of this problem, this article is for you.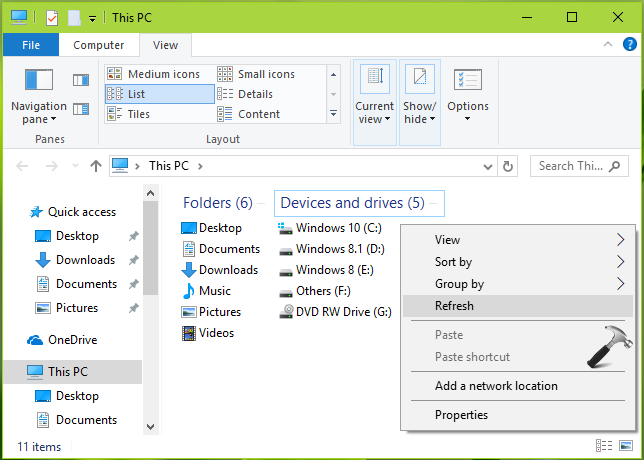 See, File Explorer may frequently crash on right-click due to either of these reasons:
Due to system file corruption which directly affect File Explorer functionality or corrupted File Explorer app (available in Windows 10 V1703+)
Due to some third-party software you use, which might have blocked File Explorer
Due to application of any policy setting (either on your standalone machine or from the domain, part of which your system is) that restricts File Explorer
Here are few suggestions you may try to get rid of this issue:
FIX: Right Click Crashes File Explorer In Windows 10/8.1/8
1. First time you see this behavior, simply restart the machine and check for recurrence of the problem.
2. Boot into Safe Mode, see if the problem persists then.
3. Uninstall any third-party software installed on your machine, including the antivirus you use.
4. Run the System File Checker scan or the DISM Inbox Corruption Repair commands.
5. Install latest Windows Updates available to you.
6. Perform clean boot and check if it helps you in this case.
7. Disconnect your machine from network such as domain, HomeGroup, Workgroup and from other machines and check the status of the issue.
8. If you've configured any Group Policy setting related to File Explorer, revert it to 'Not Configured' state. Those who configured GPO settings for File Explorer but could remember them, can use Resultant Set of Policy (RSoP) or simply reset Group Policy Editor.
9. If issue still persists, you can Refresh or perform in-place upgrade to your Windows 10. Either of these won't affect your data.
10. Go ahead with clean installation in case if nothing works. Backup your data before you do so.
Hope something helps!