In Windows operating systems, System Restore helps you to restore back, if some changes made by you goes wrong. To avail the benefit of System Restore, you've to first enable System Protection and then create a System Restore point.
If you've System Restore points created and something isn't right atm but was okay previously, then you can use created restore points. Recently, while restoring one of our system to previous restore point, following error occurred:
System Restore did not complete successfully. Your computer's system files and settings were not changed.
The System Restore is still in progress or did not complete.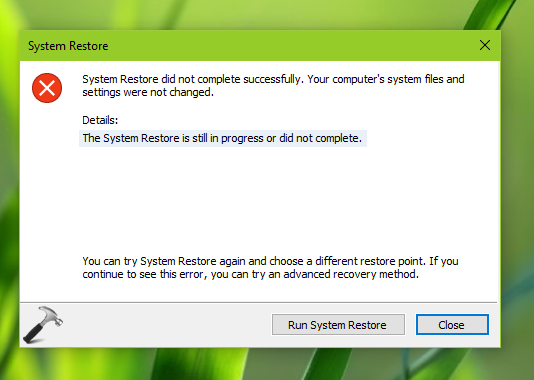 You can expect this message to appear when:
You restore the system using restore point but unfortunately, system is turned off due to anonymous reason before restore process completes.
Restore point is damaged or deleted during restore process.
Security software or other program present on system terminated or interrupted the restore process.
So if you're see this message while restoring your system, try these suggestions and see if they helps:
FIX: The System Restore Is Still In Progress Or Did Not Complete
FIX 1 – Retry System Restore
If the system restore process was altered anyhow, and luckily your system is not corrupted due to this, you can retry with the restore point.
In this second attempt, you need to make sure this time the restore process should complete anyhow. To achieve this, you can follow these points:
Make sure your system is plugged to AC power source, or have enough battery so that it can survive during restore process.
Temporarily remove security software which may block System Process from completion.
If you've any other restore point available, you can try that this time.
See FIX 2, if these recommendations doesn't helps.
FIX 2 – Try Alternative Recovery Method
So if System Restore is not working, you can opt for other or alternative recovery methods. These are the choices available to you then:
You can try System Image restore.
You can reinstall (or Reset) Windows 10 keeping your files.
If you're performing System Restore just because you're facing issues with booting, you can repair boot records then.
You can also try Automatic Repair.
Or you can opt for repair upgrade.
A complete Reset may help you as well.
We hope something from above should help.
Write back to us via your comments, if you still face the issue!