Whenever it comes to make clean install or re-installation of Windows, you would need Windows 10 ISO files. We've already seen the cases where Original Equipment Manufacturer's (OEMs) don't provide recovery disc and users face trouble when they've to reinstall the operating system. With the help of official Windows 10 ISO file, it is actually quite easy to make clean install.
In this article, I'm going to provide you the ways to get the official Windows 10 ISO file. See, Microsoft provides two type of ISO files for Windows 10 users. First is the stable build ISO file, such as first Release to Manufacturing (RTM) build 10240, November Update Build 10586 (V1507) and Anniversary Update Build 14393 (V1607). While the second type is of preview build ISO file, which are offered build to build and is targeted at Windows Insiders. Way to get both type of ISO files are discussed here.
You can adopt either of the ways mentioned below to get Windows 10 latest ISO files.
| # | Before you download, review these points. |
| --- | --- |
| 1 | Windows 10 is free download from Microsoft but Internet downloading charges will be applied. |
| 2 | Windows 10 ISOs weighs more than 3 GB, so you should have at-least 4-5 GB free space on your hard-drive or USB. |
| 3 | Download time will depend upon your network speed. |
| 4 | Make sure you select right architecture ISO file for download. 32-bit ISO can be used to make 32-bit installation on which 64-bit programs won't work. While on 64-bit installation, both 32-bit and 64-bit programs work. However, 64-bit installation is little bit slow as compared to 32-bit installation. |
| 5 | Direct download of Windows 10 ISO gives install.wim file under sources folder. Later, this ISO is compatible to work for DISM operations. |
| 6 | Windows 10 ISO downloaded using Media Creation Tool is compressed one. It gives install.esd file under sources folder. Hence it can't be later used as a source in DISM operations, such as enabling .NET framework. |
| 7 | Windows 10 N and KN are special editions where 'N' stands for Europe and 'KN' for Korea. These editions comes doesn't have media features (such as Windows Media Player, Music app etc.) pre-installed. You need to additionally buy Media Feature Pack for them. |
| 8 | Windows 10 basic editions such as Home, Single Language don't have advanced features such as Group Policy. It'll be best if you compare the editions first on Microsoft's site and judge best edition for you. |
| 9 | Make sure your system meet Windows 10 required specifications. |
| 10 | Backup your data before you proceed with installation. |
Download Latest Windows 10 ISO Files For Clean Install
Way 1 – Using Media Creation Tool (MCT)
1. Download MCT using following link: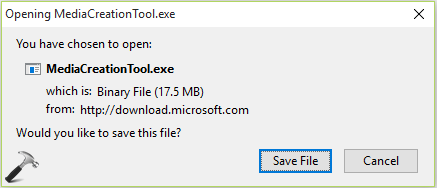 2. The above mentioned download link will provide MediaCreationTool.exe file. Double click on it to start the tool. Accept the software licensing terms.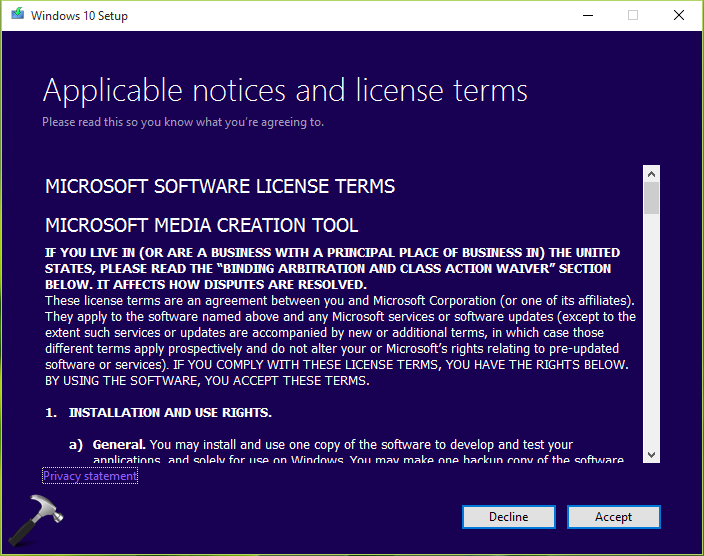 3. Then in next phase, select Create installation media for another PC option. Click Next.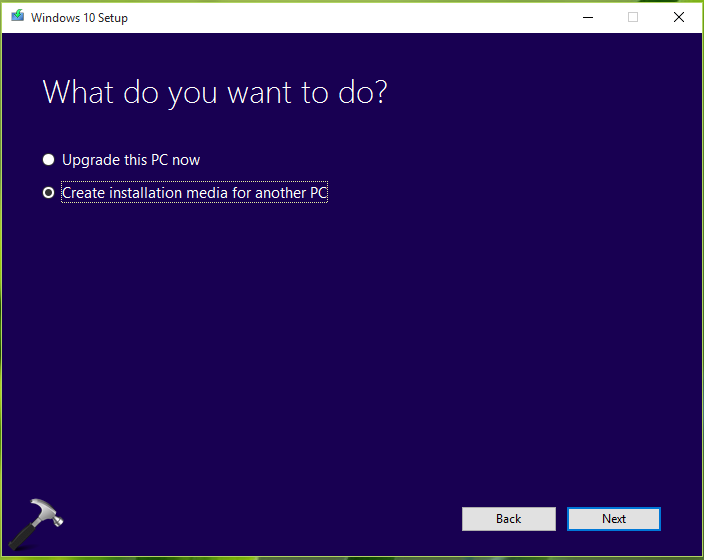 4. Moving on, you can now select Language, Edition and Architecture for the Windows 10 ISO file you want. If you're not sure about anything here, feel free to check Use the recommended options for this PC. Click Next.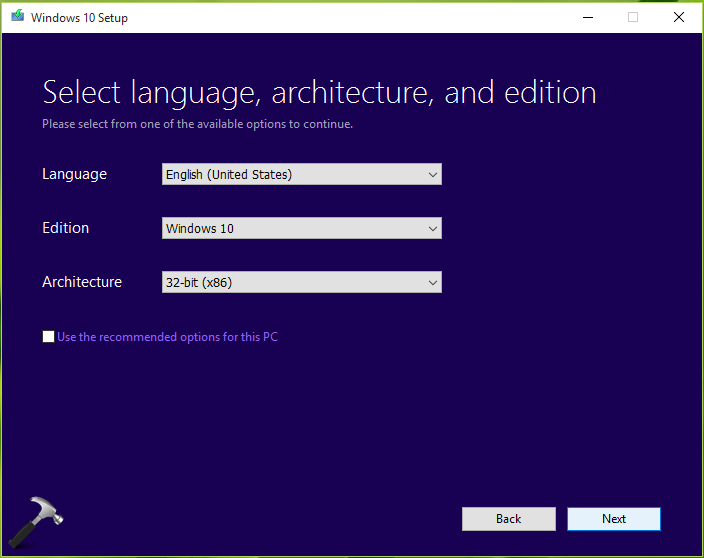 5. Then you'll be asked which media you want to use. Since we need ISO file, select that option. Click Next.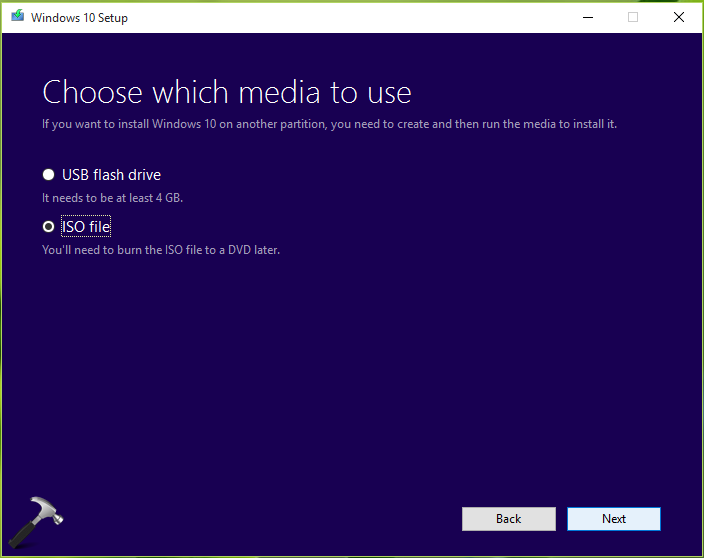 6. Now select where do you want to save the downloaded ISO file. Click Save when you're done with your choice.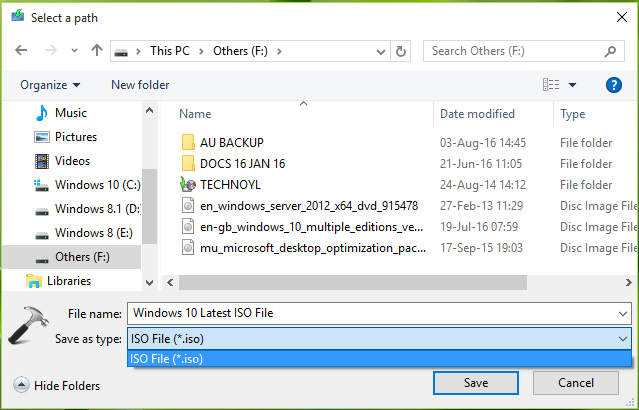 7. Finally, it should start downloading of latest Windows 10 ISO file. The time required to download depends upon strength of your Internet connection. You can minimize this window, and keep you work on. Check later to know the progress of download.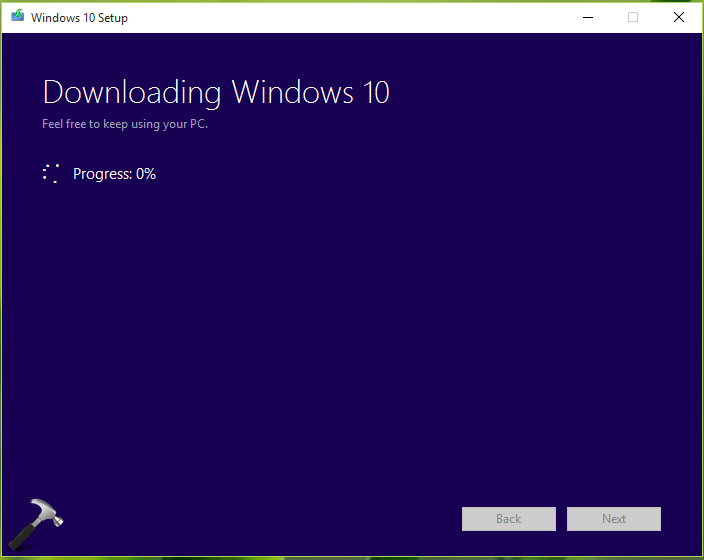 In this way, you can get Windows 10 ISO using MCT.
Way 2 – Direct Download Windows 10 ISO File
1. Open your favorite browser and click this link to visit Microsoft's Windows 10 download page.
2. On that page, scroll down and under Select edition, choose your Windows edition. Click Confirm.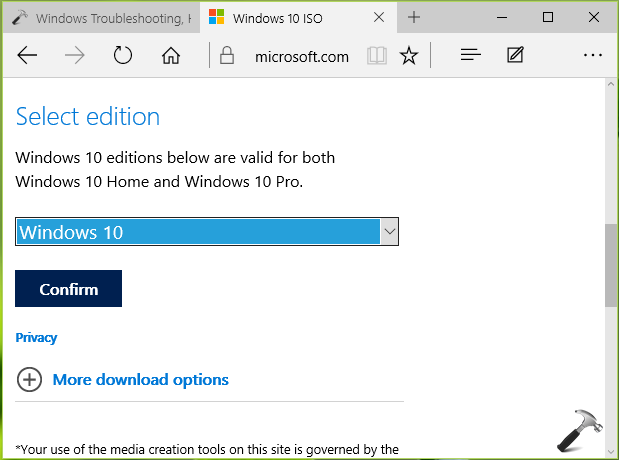 3. Next, you'll be asked to select the language for the ISO file. Choose your language and hit Confirm.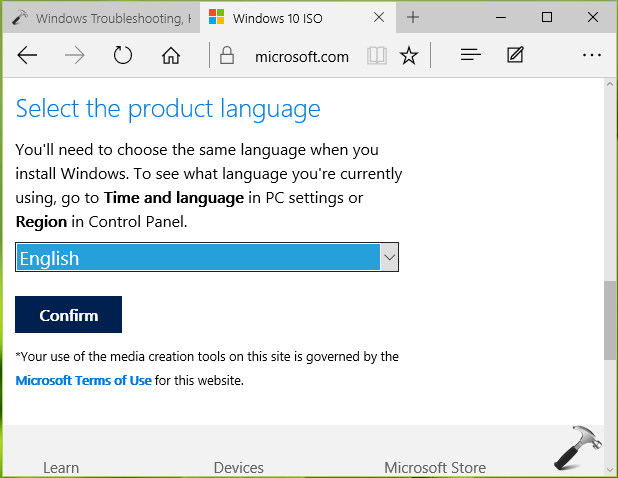 4. This should activate the download links for ISO files. You can click on 64-bit Download or 32-bit Download button to download respective architecture ISO file. Note the these downloads link is valid for only 24 hours and they automatically expires post this time.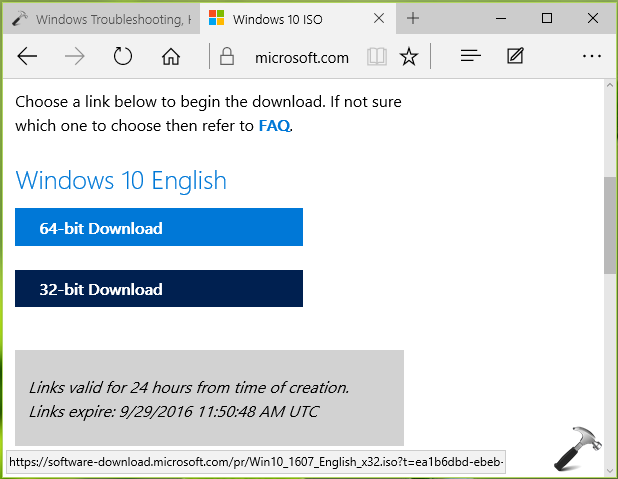 5. Finally, you'll see the progress of ISO file download.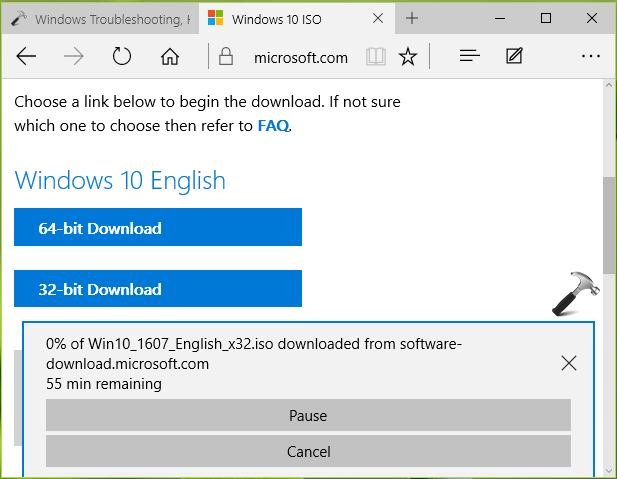 If you like, you can copy the download link and paste it in your Internet download manager tool to get faster download with pause and resume support.
Way 3 – Using MSDN Subscription
If you are MSDN subscriber, you can download the Windows 10 latest ISO file using your subscription benefit. Click here to go to subscriber downloads page to get the ISO archive.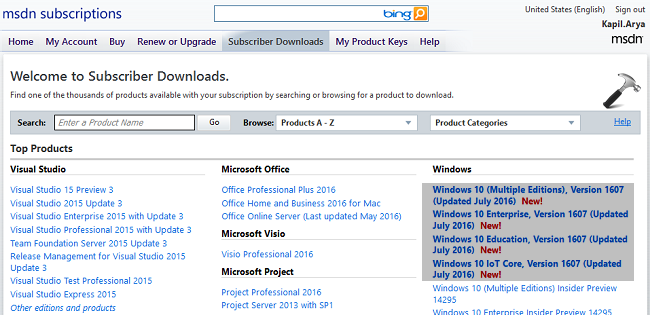 Download Latest Windows 10 Preview ISO File
1. Click on this link to get to Microsoft's Insider Preview ISO download page. Click Sign in and use your Microsoft Account (MSA) associated with Windows Insider program for this purpose.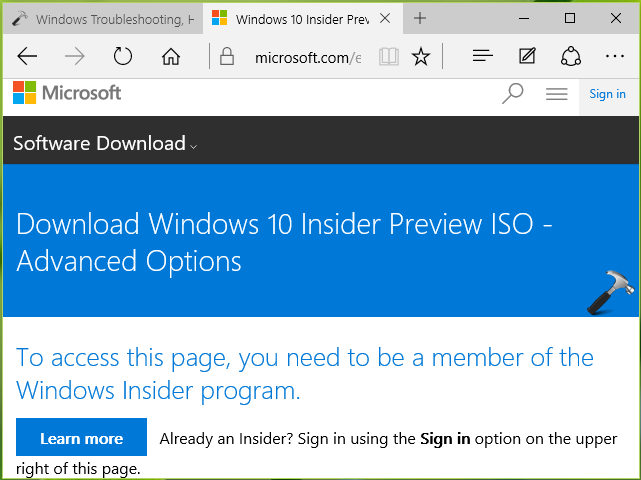 2. After signing in, scroll down and select the edition of preview ISO file. Click Confirm.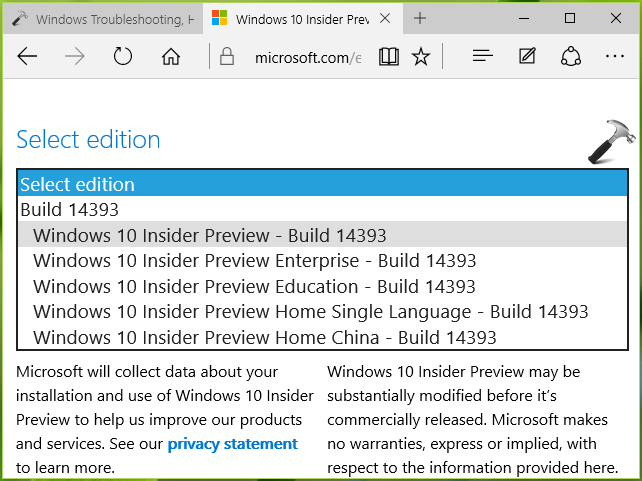 3. Then select the language of ISO archive and click Confirm.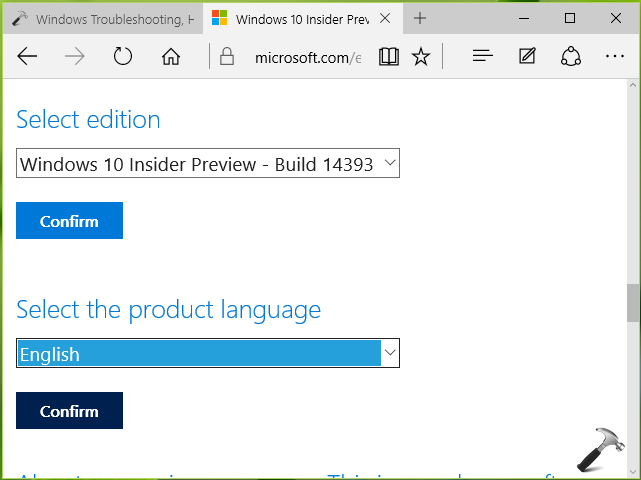 4. Finally, click on the 64-bit Download or 32-bit Download button to download respective architecture ISO file. Here also, the downloads links are valid for only 24 hours and they expire after this limit.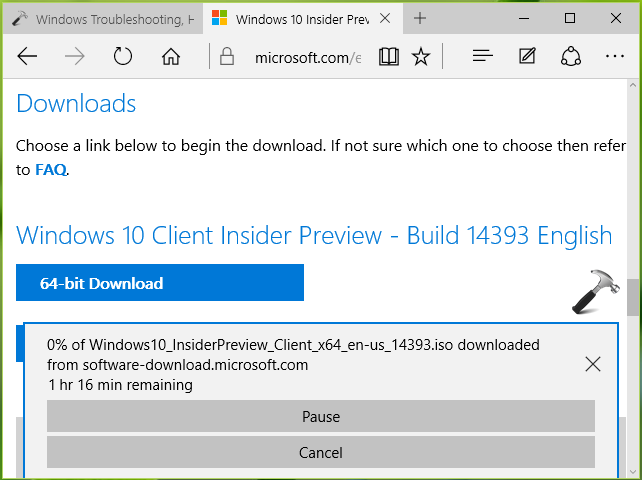 Windows 10 Insider Preview ISO will be downloaded within few hours/minutes depending upon your web connectivity strength.
Thus, the ways to get latest Windows 10 ISO file discussed.
Up next:
1. How to make clean installation of Windows 10 using ISO file?