Start Screen is one of the biggest feature introduced in Windows 8, many of us are already evident with this fact. With the introduction of Start Screen, it has provided the capability to the user to customize the Start Screen. Start Screen customization includes adding, drag & drop, resizing etc. operations with the Metro tiles. In latest released Windows 8.1, you can even group the tiles by a particular name and the Start Screen can be viewed in Start or Apps mode.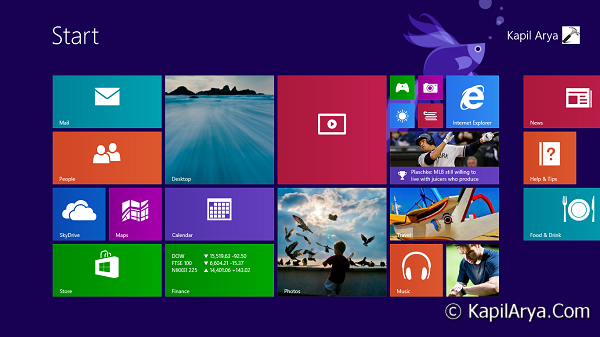 The customization ability of Start Screen resides in the setting covered in Group Policy. So, in case if  you are unable to customize Start Screen, then you need to give the above mentioned setting, a proper orientation. There also exists the possibility that some sort of registry based corruption may affect you to rearrange Start Screen items. If it was only the case of tiles, then you can fix it with "Tile Locker" tool, we've posted couple of weeks ago. Well, in this article, we're going to fix the issue of not being able to do customization for Start Screen, here is how to:
FIX : Unable To Customize Start Screen In Windows 8.1
FYI: GPO snap-in is not available in Windows 10 basic editions.
1. Press 

 + R and put gpedit.msc in Run dialog box to open Local Group Policy Editor. Click OK.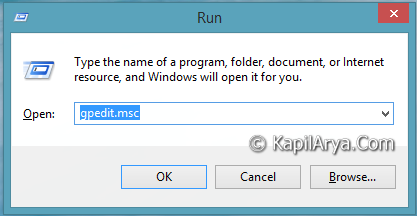 2. Navigate here:
User Configuration -> Administrative Templates -> Start Menu and Taskbar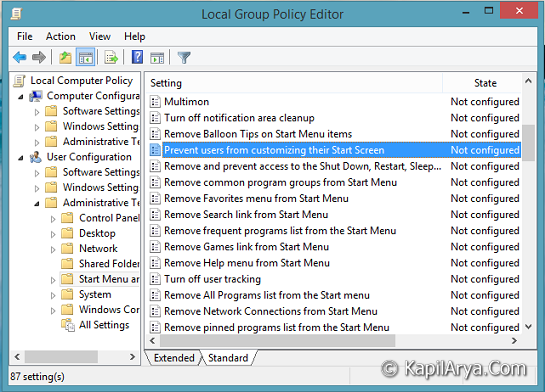 3. In the right pane of this location, look for the policy Prevent users from customizing their Start Screen. Since you're facing the issue of being not able to customize Start Screen, then you may find this policy as Enabled. Double click on the same policy to get this: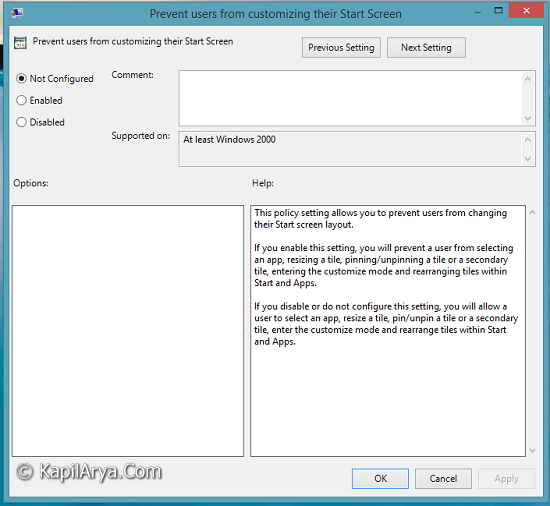 4. In the above window, select Not Configured or Disabled to fix up the issue. Click Apply followed by OK. Reboot to get results. If you're facing the issue about drag and drop functionality, then this article may be help you in fixing that.
Hope you find the fix useful!