Windows Mixed Reality is the mixed reality platform which provides holographic and mixed reality experiences with compatible head-mounted displays. It was earlier known by name of Windows Holographic.
Windows Mixed Reality works well on the high end specification machines. You can check the requirements to run this software in this Microsoft documentation. With Creators Update, Microsoft worked hard to bring most of this mixed reality platform to Windows 10. If you've compatible machine to run this software but still if you can't download it, this article is for you.
While downloading the software, you may see following error:
We couldn't download the Windows Mixed Reality software.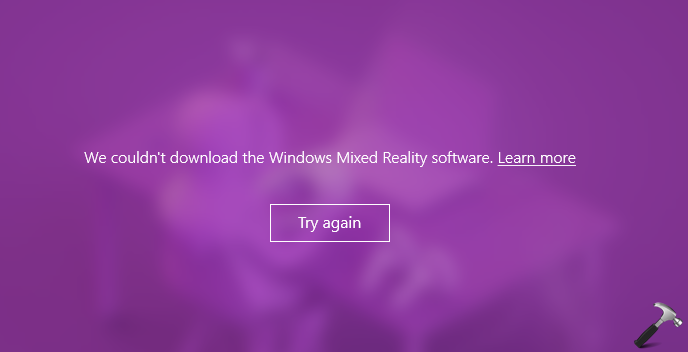 Here's are the suggestions to fix this issue:
FIX: We Couldn't Download The Windows Mixed Reality Software In Windows 10
1. First of all, make sure you've a stable and relatively fast Internet connection. You can also run Network Adapter troubleshooter to look out for the network issues, if any and fix them.
2. You should not be on a Metered Connection while downloading this software. Check your connection status to non-metered to download the software.
3. Make sure you're on latest Windows 10 version and have latest Windows Updates installed.
4. Run the Windows Update troubleshooter.
5. Check the Device Manager (open this by running devmgmt.msc command) for Mixed Reality Devices and make sure they're working fine. You can try reinstalling the devices form there.
6. Note that if you're "-N" edition of Windows 10, Windows Mixed Reality would not work on it. You need to switch to regular Windows 10 to use this software.
7. Run the System File Checker to scan corrupted files on your Windows 10 installation. Corrupted files, if exit, may block the downloading of Windows Mixed Reality software.
8. Perform the in-place upgrade, if you still find yourself nowhere in solving this issue.
9. The final choice to fix out this problem would be clean install of Windows 10. Because some users have found that even resetting the OS doesn't get rid of this, but a clean install did.
Hope something helps you!