Imagine a condition that you're browsing the Internet on your Windows 10 but suddenly, you realize that WiFi is no longer working. You then attempt to restart the machine thinking that it will resolve the problem. However, the issue persists even after restart and you wondering what to do now.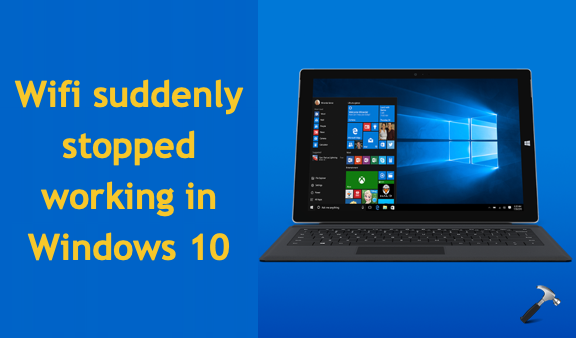 As we all know that WiFi is working through wireless network adapter, losing WiFi sometimes relates to issues with adapter. But there may be certain other factors involved as well as the hardware parts, some settings that may not aligned as they should. In this article, we'll try to fix the issue with possible methods.
FIX: WiFi Suddenly Stopped Working In Windows 10
FIX 1 – Using Network Adapter Troubleshooter
As you start experiencing this problem, first of all, run Network Adapter troubleshooter. Check out what issues it finds. Though the troubleshooter is supposed to fix the issue it founds but sometimes this may not be true and you need to fix reported issue at your end manually.
You can refer our already shared fixes for common issues:
If the troubleshooter reports any other error which is not listed above, see FIX 2.
FIX 2 – Additional Suggestions
Next suggestion would be to perform Network Reset once. It will basically reinstall network drivers with default settings. If nothing works, you may need to confirm, if the wireless card if working fine. You may need the help of computer technician in this regards. The technician could check if wireless card is working, and if it is not, replacing the wireless card will finally solve the problem.
Hope something helps!