Airplane mode in Windows helps you to immediately disconnect all wireless communications from your device. Airplane mode is capable of turning off all the connections your device has established without wires and via Wi-Fi, Bluetooth, Near Field Communication (NFC) etc.
Today, we came around a strange issue regarding Airplane mode. In this case, user turned on Airplane mode on his device but he was unable to turn it off. In other words, his Windows 10 stuck in Airplane mode, declining all the possibilities to make to re-connect the system to wireless communication. Clicking on Airplane mode button in Action Center doesn't do anything. Also, rebooting multiple times makes no differences in situation.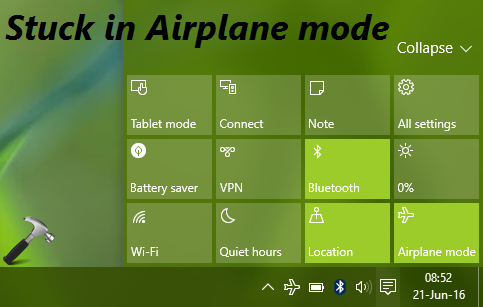 So how to come out of this weird situation? Well, I found two solutions for it. One is using a dedicated keyword combination, while other utilizes manipulating the registry. Both the fixes are mentioned here.
FIX : Windows 10 Stuck In Airplane Mode
FIX 1 – Using Keyword Combination
This problem can be easily solved by pressing Fn key i.e. function key and radio tower symbol key simultaneously. In case if your laptop is manufactured by Dell, you may also try pressing Print Screen (Prt Sc) key along Fn key and see if it helps.

The availability of radio tower symbol key might vary from keyboard to keyboard but the key exists essentially. By pressing this keyboard combination, I believe you will be able to exit Airplane mode. If this doesn't helps, try FIX 2.
FIX 2 – Using Registry Manipulation
Registry Disclaimer: The further steps will involve registry manipulation. Making mistakes while manipulating registry could affect your system adversely. So be careful while editing registry entries and create a System Restore point first.
1. Press

+ R and put regedit in Run dialog box to open Registry Editor (if you're not familiar with Registry Editor, then click here). Click OK.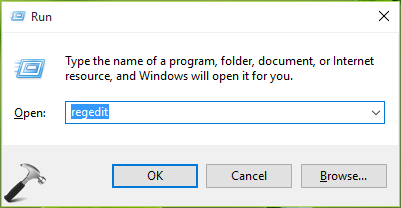 2. In the left pane of Registry Editor, navigate to following registry key:
HKEY_LOCAL_MACHINE\SYSTEM\CurrentControlSet\Control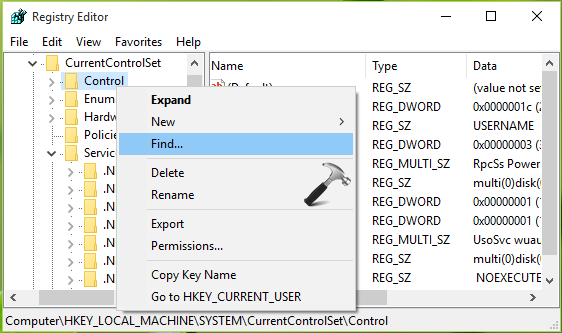 3. Right click on Control registry key and select Find. In the Find prompt, type RadioEnable and click Find Next.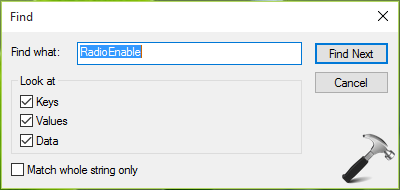 4. Now Registry Editor will search for the value and you'll be taken to the RadioEnable values one by one. All you need to do is to change RadioEnable registry DWORD (REG_DWORD) values from 1 to 0.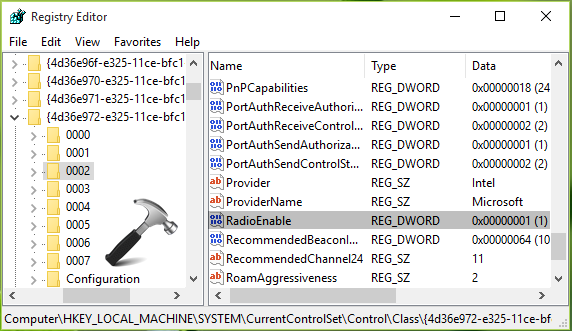 5. Changing the RadioEnable DWORD quite easy. Double click on the DWORD and input the Value data as 0. Click OK.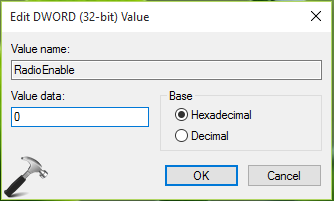 After changing all the RadioEnable DWORD values from 1 to 0 under HKEY_LOCAL_MACHINE\SYSTEM\CurrentControlSet\Control, you may close Registry Editor and reboot machine. The problem should solve after restarting device.
Hope this helps!