Microsoft completed development to Windows 10 V1809 around a month ago. They released Windows 10 V1809 on last month, but after discovering a serious file loss issue, the update was pulled from Microsoft servers.
Microsoft corrected this bug in past month, after the file loss incident. They released the update again to Insiders first. The Insiders provided green signal and on 13 November 2018, Windows 10 V1809 was re-released to end or stable platform users.
Some users are reporting that they upgraded to V1809 earlier in October month but due to issues, they downgraded back to V1803. Now V1809 update after re-release, is not appearing to them. While there are some other users, who got re-released V1809 update but they're unable to download/install it.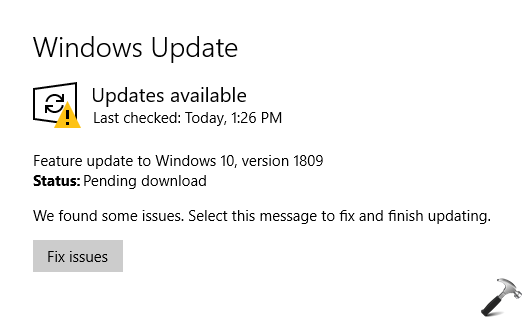 If you're also having trouble installing Windows 10 V1809, here's how to fix:
FIX: Windows 10 V1809 Failed To Install
FIX 1 – General Suggestions
1. Make sure you system doesn't have any integrity violations. This means the system files should be OK and free from corruption. For this, you can run SFC scan or DISM commands.
2. Make sure Windows Update, Background Intelligent Transfer Service are running in Services snap-in (run services.msc command to get this).
3. Run Windows Update troubleshooter.
4. Clear update database, if the update stays pending.
5. Reset Windows Update components.
FIX 2 – Upgrade Via ISO File
The best and hassle free way to upgrade to Windows 10 V1809 from V1803 or any other previous Windows 10 version is via ISO file. Microsoft has already released Windows 10 V1809 (October 2018 Update) ISO files. You can download them here:
Download Latest Windows 10 ISO File (V1809)
Then refer following guide to perform upgrade using above downloaded ISO file:
How To Upgrade To V1809 Via ISO File
We believe after trying above mentioned suggestions, you should be able to upgrade your Windows 10 to V1809.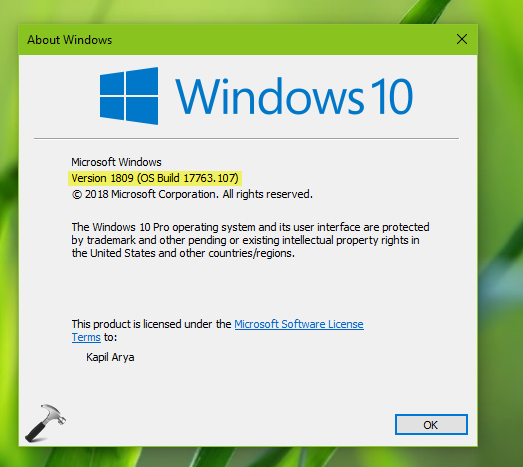 Let us know via your comments, if you're still not able to upgrade to V1809.
Hope this helps!