Users are always recommended to install latest updates as they're available. This will ensure that their system remains up-to-date, safe and secure. However, sometimes due to background issues, some updates may fail to install. In such cases, there will be an error code provided as reference which users can use to troubleshoot the issue.
In this article, we'll discuss about Windows Update error code 0x8024000b which we came around recently. The routine updates on one of our system failed to installed with this error code, as you can see in the screenshot shown below.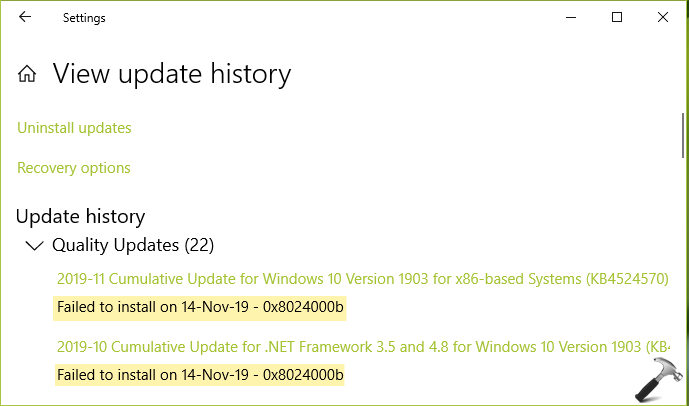 So if you've also seen this error code on your system, you can try below mentioned suggestions and hopefully fix it.
FIX: Windows Update Error Code 0x8024000b
FIX 1 – General Suggestions
1. Run Windows Update troubleshooter as a first measure to troubleshoot this problem. The troubleshooter may detect and fix the issues with Windows Update. And it found issues but couldn't fix or if it couldn't identify the problem, refer next suggestions.
2. Try repairing Windows Update database, and see if that helps.
3. If specific updates are failed to installed with this error code, you may try installing updates manually and check if that works.
4. Run Network Adapter troubleshooter to detect network issues, if any and fix them. Remember, the Internet connection should be working perfectly in order to detect, download and install updates.
5. Reset Windows Update components, if above points didn't helped.
FIX 2 – Rename Support Update RunOnce Service File
Another approach to fix besides general suggestions and by renaming Support Update RunOnce Service File i.e. spupdsvc.exe. The file is for a system process which is associated with Windows Update. Whenever new updates are detected, another process is made aware of and a RunOnce entry is added for spupdsvc.exe. In past, renaming this file has helped users to fix this Windows Update error code specifically.
Try these steps to rename spupdsvc.exe file:
1. Press

+ R to open Run.
2. Paste following into Run window and click OK, or press Enter key.
cmd /c ren %systemroot%\System32\Spupdsvc.exe Spupdsvc.old
You should be now able to install Windows Updates without error code 0x8024000b.
That's it!
Checkout these related articles too: