Consider a scenario, that you're having a Windows 10 installed machine. You turn it on and Windows started the booting process but suddenly power went off. In such condition, there might be chances that boot files on your system got corrupted. So next time, when power is back and you turn on the machine, you'll see that instead of booting the OS, Windows start preparing for Automatic Repair and performs it. After few moments, you'll receive below shown screen saying Your PC did not start correctly.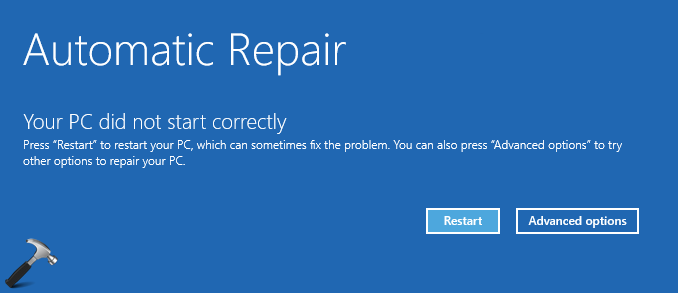 As the screen mention itself that if you hit Restart button, the problem may solve automatically. But if this continues to happen after every reboot, you need to perform additional troubleshooting fixes to solve this problem. Here are the factors that can preserve the issue even after multiple reboots:
Corrupted/missing Boot Configuration Data (BCD) file
Corruption of Master Boot Record (MBR)
Both BCD and MBR are corrupted or missing
Any hardware changes such as re-installation of hard-drive
In case of virtual installations, re-deployment or changes to Virtual Disk Image (.vdi) file
To solve this hiccup, you can try these suggestions:
FIX : Your PC Did Not Start Correctly In Windows 10/8.1/8
1. Use Advanced Options button on error message screen and navigate to Troubleshoot > Advanced Options and select Startup Repair. This manual Startup Repair should solve the issue, if hardware changes mentioned above are culprit.
2. If you receive Startup repair couldn't repair your PC by following point 1, perform the steps mentioned here.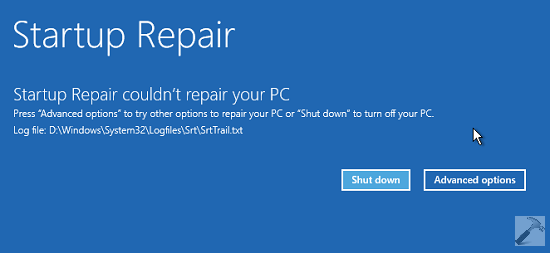 3. Now, if the BCD file is missing or corrupted, you'll receive an error (as shown below) regarding it on next reboot.

You can try the steps mentioned here or here to solve this missing BCD file error. This should fix the whole problem.
4. Even if the issue still persists, the last weapon we have is to repair the MBR. You can try the steps mentioned here to fix MBR. You can now reboot to get inside your OS.
5. I believe, above mentioned 4 points should solve the issue completely. Users who don't see any differences in situation and have the problem unresolved should opt for either Refresh (if you don't want to loose your data) or clean install.
Something should help.