Since 90s, Microsoft offered various operating system under Windows title. With the release of Windows 10, Microsoft decided to go with "Windows as a service" rather than increasing the edition number every four year. With this concept, company focuses on Windows 10 improvements and new features implementation in it, via Windows Update. The way how these updates will be delivered to end customer brought the requirement of "servicing branches". This article will help you to understand these servicing branches and let you decide which is correct branch for you.
Understanding Windows 10 Servicing Branches
See, Microsoft offer Windows 10 builds in two ways. First way is through Windows Insider program. Under this program, the pre-release software is rolled out to Windows Insiders for testing out new features so that they could provide positive/negative feedback to Microsoft. You can check out this link for latest Windows Insider Preview build.
Windows Insiders receive new builds via "rings" namely Fast, Slow and Release Preview. In Fast ring, the immediate builds are released and users may find it quite risky to use them. In Slow ring, build passed by Fast ring users are offered, so obviously, there is a delay and hence the name 'slow'. In Release Preview ring, build passed by both Fast and Slow ring users are delivered. Release Preview ring builds approximately resemble Release to Manufacturing (RTM) editions. You can toggle between these rings under Settings app > Update & Security > Advanced Options > Get Insider Preview builds.
Second way is via offering updates to Windows 10 stable editions, which are released after hard testing of preview editions. The Windows 10 update servicing branches are applicable to Windows 10 stable or client editions.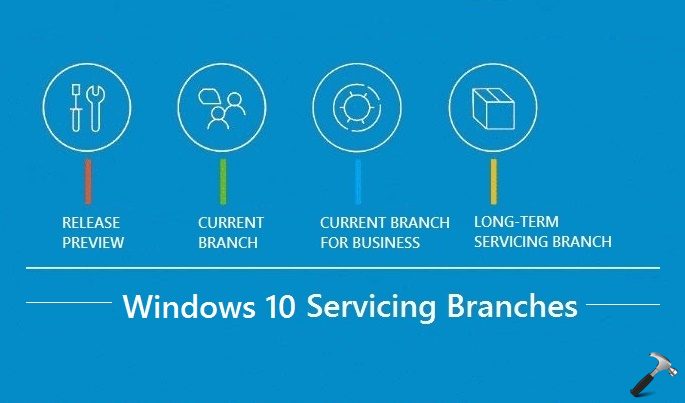 Basically, there are three servicing branches:
1. Current Branch (CB):
Under this branch, feature and security updates/patches are released as soon as Microsoft releases them. Users part of this branch often receive a group of mandatory updates which they should install on their device. Until Windows 10 Version 1511, this branch had only few options to delay the updates but with Windows 10 Version 1607, you can delay feature updates up to 6 months. Microsoft often recommends end users to be in this branch so that they get the right and mandatory update as soon as they're released. CB is justified for Windows 10 Home editions.
2. Current Branch For Business (CBB):
This branch is more focused for organizations. Unlike CB, which is focused on users and developers, CBB is utilized for large-scale deployments. Since most of the features for a build already tested and verified under CB, Microsoft gets enough time (typically 4 months or so) to release same build for CBB. The company is supposed to support two CBB builds at same time including a 2 month grace period. CBB is justified for Windows 10 Pro, Enterprise and Education editions. Normally, end users in CB by default if opt for defer upgrades, they would be automatically considered for CBB.
3. Long-Term Servicing Branch (LTSB):
Under LTSB, Microsoft's focus is on delivering quality updates and not on feature updates. The servicing branch or model is utilized in systems part of public environment such as ATMs, medical service devices, sales and distribution devices, etc. LTSB is justified for Windows 10 Enterprise editions only. There are no often updates in this branch and they're offered in a cycle of every of 2-3 year which could be deferred as well up to 10 years.
How you manage for different servicing branches can be resolved by servicing tools. The Windows Update settings available in all Windows 10 editions under Settings app is the first tool. Windows Update for business is the second tool, under which you can use Group Policy or Intune to configure and defer upgrades. Third tool is Windows Server Update Services aka WSUS, which is utilized in organizations to defer and deploy upgrades. Fourth and last tool is System Center Configuration Manager aka SCCM, which is available as a separate tool, and can be used by IT pros to have widespread control over Windows 10 servicing model.
To have information about versions released in different branches till date, check this page.
Hope you find the article useful!