If you're on Windows 10 V1803 and planning to update to V1809, be careful about a known issue with this upgrade. Some of users has reported when they upgrade to Windows 10 V1809 from V1803, their built-in administrator account is invalidated.
We all know that built-in administrator account have unrestricted access to everything on the system. While on this account, most of the features wouldn't ask you for credentials, such as UAC. When you boot into Safe Mode, your system logs you in with this built-in administrator account. You can read more about built-in administrator account and how to enable it, in this post.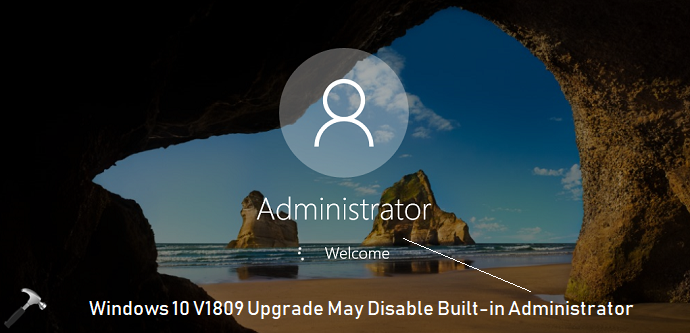 Known Issue: Upgrade To Windows 10 V1809 May Invalidate Built-in Administrator
Microsoft is aware of this issue at the moment. Company's officials confirmed this on Technet:
If you are using Windows 10 version 1803 and there are people who are considering upgrading to version 1809, it is reported that the built-in administrator account is inadvertently invalidated.
This problem is known to occur when upgrading from Windows 10 version 1803 to version 1809 when both of the following conditions are satisfied.
Conditions for occurrence of this problem:
The built-in Administrator account is valid.
There are other accounts that also have Administrator permissions.
We are currently working on solving this problem, and at the moment we aim to release a patch in late January 2019.
Workarounds to deal with this issue
If you want to upgrade to Windows 10 V1809 atm, make sure you disable built-in administrator first. You need to run net user administrator /active:no command in administrative Command Prompt to disable built-in administrator.
In case if you've already upgraded to V1809 and found built-in administrator account disabled, run net user administrator /active:yes command in administrative Command Prompt to activate built-in administrator, again.
You can also refer our fix for lost administrative rights.
We'll update this post, when Microsoft releases a patch for this known issue.
Stay tuned!