When your machine is not able to connect with hardware devices associated with it, your computer will boot into recovery mode. Under this condition, an error message followed by the code is displayed on the typical blue recovery screen as shown below. In this article, we'll discuss this problem and try to resolve it with easiest possible solutions. Here is the error screenshot for the reference:
Recovery
There was a problem with a device connected to your PC
An unexpected I/O error has occurred.
Error code: 0xc00000e9
This problem can happen when a removable storage device is removed while it's in use or failing. Properly connecting any removable storage and restarting your PC may fix this problem.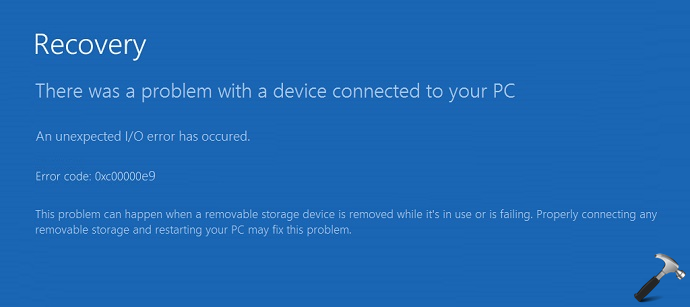 You may come to this screen when any of following things happen:
External USB device(s) connected to your system has lost communication with machine software. If they're still present in the memory, the blue recovery screen gets triggered.
External USB device(s) is/are malfunctioned.
Files required to run the external storage device are corrupted or missing.
So if you're victim of this issue, the first thing you should do is to check the external device connection(s) physically as suggested by the error message itself. Ensuring proper connectivity and many times, rebooting machine can also solve this issue. However if the problem still exists, here are the advanced options you can try:
FIX : There Was A Problem With A Device Connected To Your PC. An Unexpected I/O Error Has Occurred In Windows 10
FIX 1 – Perform Automatic Repair
The safest option you have to deal with such kind of error is to go ahead with Automatic or Startup repair. You'll need to boot using System Recovery Drive or Windows 10 installation media, in case if your PC is not bootable with the OS.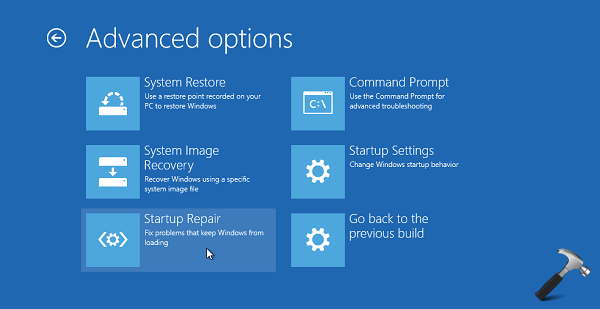 Check following guide to perform Startup repair:
Steps to perform Startup or Automatic repair in Windows 10
FIX 2 – Repair Boot Records
Generally error 0xc00000e9 is associated with Boot Configuration Data (Boot/BCD) file. Hence re-creating the boot records can help you magically with this problem. Repairing Master Boot Record aka MBR can be easily done with the help of steps mentioned in following guide:
Steps to repair Windows 10 Master Boot Record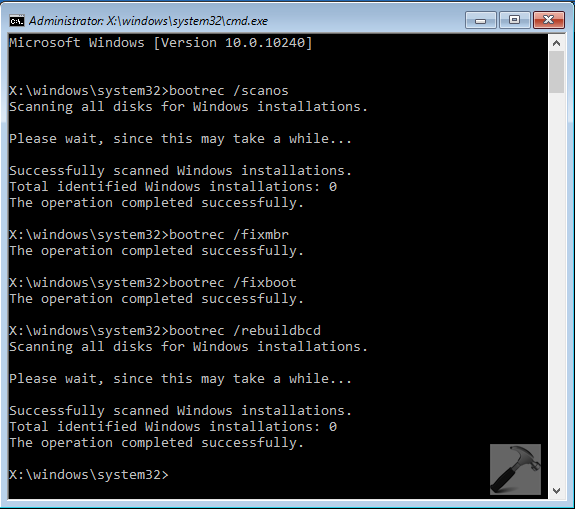 FIX 3 – Refresh Windows 10
If even after trying FIX 1 & 2 you don't find any differences in situation, you can opt for Refresh or reinstalling Windows 10 without affecting your data. You can perform Refresh from Settings > Update & security > Recovery from a OS bootable system, while you can also try same thing from Advanced Recovery Options for a non-bootable machine. Here is the guide for that:
Steps to reinstall Windows 10 w/o affecting your files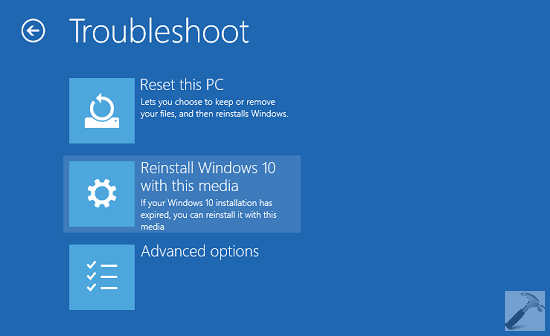 Hope something helps!