Windows 10 Fall Creators Update (V1709) introduced lots of new features on the board. Many of the past version issues got fixed with this update. However, the update has also brought some new issues for the users. Today, in this article, we're going to talk about one of those issues.
On Windows 10 V1709, some users reported that whenever they try to login and they use correct credentials, following message appears on the login screen:
The username or password is incorrect.
In some other cases, the error is different but illustrates same problem:
The password is incorrect. Try again.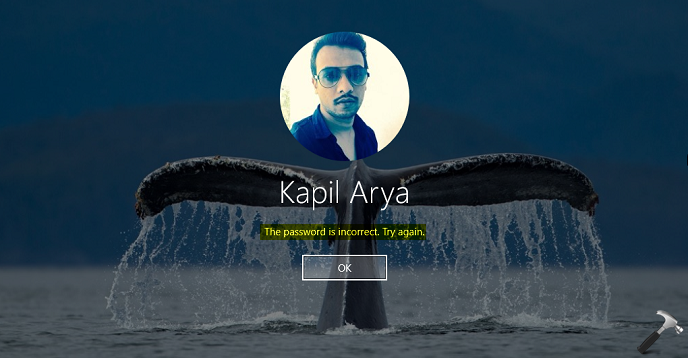 This looks like a flaw and becomes annoying. Users should not face such kind of troubles, when they use correct credentials. In this case, once user clicks OK, the login screen appears again. Using the same credentials again lets the user login normally this time. So why it couldn't allow you log in first time? Well, this problem pretty much relates need to sign-in twice issue appeared on Windows 10 V1709. The same solution also works in this case.
However, to fix this issue, you can additionally perform a registry tweak which will prevent Windows 10 to use last user name info. If you still have the issue, go ahead and try these fixes and get rid of this problem.
FIX: 'The Username Or Password Is Incorrect' In Windows 10
FIX 1 – Via Settings App
1. Right click Start Button or press

+ X keys and select Settings.
2. In the Settings app, navigate to Accounts > Sign-in options.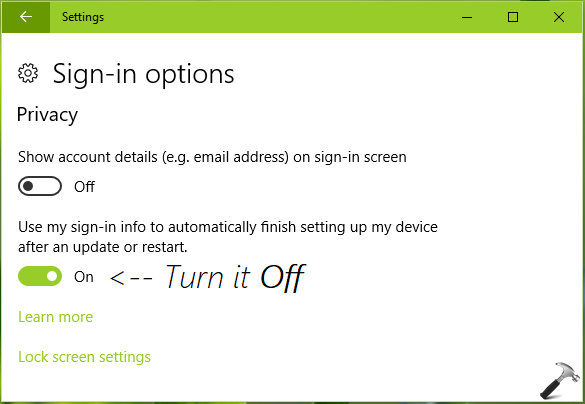 3. On the Sign-in options screen, scroll down and under Privacy section, turn Off the Use my sign in info to automatically finish setting up my device after an update or restart option.
4. Close Settings app and restart the machine, check if the issue is resolved.
If you still face the issue, try FIX 2.
FIX 2 – Enable Auto Logon
Another thing you can do to bypass this problem is to enable auto logon. This will eliminate the username/password requirement and skip login screen automatically. However, auto logon makes your system less protected. But if you're sole user on the machine, it would be a good option to try in this case. Follow this guide:
Steps to enable auto logon in Windows 10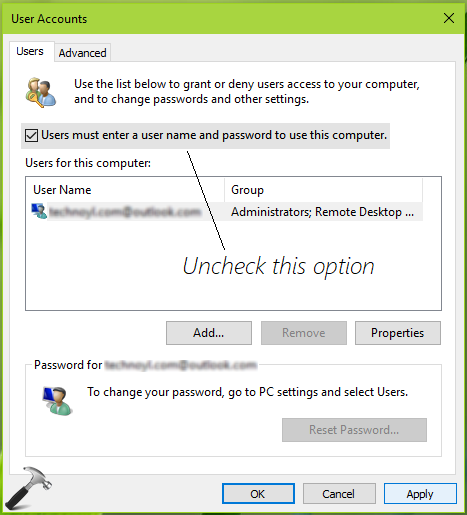 We hope, after trying either fixes mentioned above, the problem will no longer exist for you.
Hope this helps!