There might be different ways you get your Windows 10 copy. These includes purchase from retail shop, pre-installed Windows 10 from OEM, buying license from online sites such as Amazon etc. When you get Windows 10 from these non-official sources, you might face trouble with Windows activation, depending upon how the machine was activated previously. In this article, we're going to talk about one such issue, which is mostly faced by users.
While trying to activate, you may receive following message and thus activation process is terminated:
We can't activate Windows on this device as we can't connect to your organization's activation server. Make sure that you're connected to your organization's network and try again. If you continue having problems with activation, contact your organization's support person. (0x8007007b)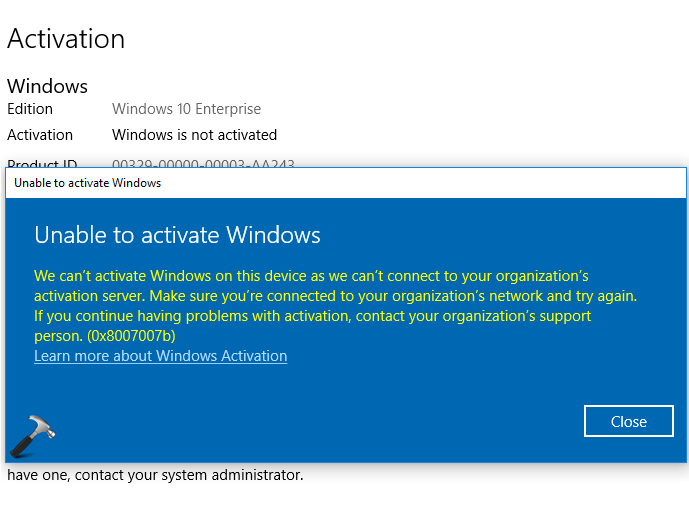 If you're also facing this exact error, don't worry, you're not alone!
Why This Windows 10 Error 0x8007007b Occurs?
The error may occur due to following reasons:
This error is supposed to be faced by Windows 10 Pro and Enterprise edition users. Because these two editions are generally sold to large organizations, results in volume licensing. Volume license clients may use different activation methods. Generally, such clients deploy Key Management Server (KMS) for mass activation. KMS provides centralized management of activation requests for each client. As the KMS clients setup is not permanent, they have an expiry within 180 days (6 months) from the date of activation. After 180 days, if KMS client is no longer connected to organization's server, the above mentioned error occurs. So if you're facing this issue with your Windows 10, it might be activated previously via KMS setup.
You can learn more about KMS client setup in this Microsoft documentation.
To find the way your license was deployed, run slmgr.vbs /dlv command in administrative Command Prompt. The output should be similar to window shown below. If the Product Key Channel says GVLK, then your system may be activated via volume licensing, which is root cause of this problem.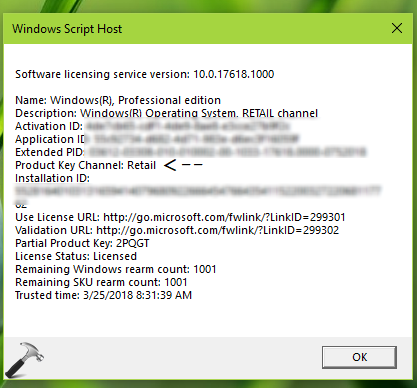 Error 0xC004F074 may also occur if you inadvertently installed incorrect Windows edition. The copy of Windows 10 you download and upgrade from should often correspond with the edition of Windows you have installed earlier. If that doesn't occurs, such problems are expected to occur. If you did this, download the correct Windows 10 edition and make clean install, first.
FIX: We Can't Activate Windows On This Device As We Can't Connect To Your Organization's Activation Server (0x8007007b)
To fix this issue, you can try these suggestions:
1. If Windows was activated previously and you made a hardware change and then this error, run Activation troubleshooter. Your Windows 10 digital license must be linked your Microsoft account in this case.
2. Take help of Microsoft chat support for activation, refer FIX 2 here.
3. Try activation via automated phone system.
4. Buy new, valid and genuine Windows 10 license from official Microsoft Store.
Hope something helps!