Recently, we shared you an article in which we fixed annoying Updates are available popup:
How to disable 'Updates are available' in Windows 10
Today, in this article, we're going to discuss yet another similar popup. Actually, one of my readers mailed me regarding this problem. According to him, he was experiencing a Windows Update popup that keeps appearing and he can't minimize or close this popup. Here is what this popup says and its screenshot is also mentioned below.
Your device needs the latest security updates
Microsoft can't install important security updates on your PC until you install the most current version of Windows 10.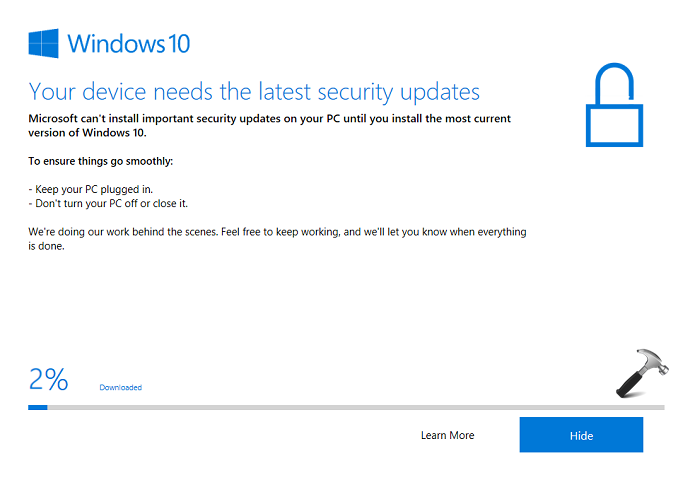 So the problem is that due to this notification, Windows keeps slowing down as most of background process are contributing to this operation. This results in slowed down machine which no one wants to run. Also, when it reaches 100%, it shows 'Restoring your previous version' and then start again from 0%. You can easily understand how frustrating and time consuming this is. So how to stop this annoyance?
Well, we've got few suggestions for you to get rid of this problem.
FIX: 'Your Device Needs The Latest Security Updates' In Windows 10
You may experience this problem, if you're lagging much behind with Windows 10 versions. For example, if you're on V1511 and the latest version as of today is V1709. This creates a big generation gap between Windows 10 version. Due to this reason, Windows Update assumes that your system is no longer secure as it is not the latest one. Hence it attempts to download the latest version as in this case, but it however fails to install it.
Thus to avoid this problem from recurring, you should upgrade latest Windows 10 via this two options:
Perform in-place upgrade to latest version in Windows 10
Clean install latest Windows 10 version using bootable ISO file
After upgrading to latest version, install Windows Updates normally and these should be no such popup.
Other suggestions you can try to fix the loop:
Hope this helps!
Related: Your device is at risk because it's out of date and missing important security and quality updates.