Microsoft and we always recommend users to install the latest security updates available to them. This ensures that their system is up-to-date and remain safe from threats. Though it is up to you that whether to install feature and optional updates or not but you should never miss Cumulative Updates. We also inform you about latest Cumulative Updates as soon as they released, in the following article:
Learn about latest Cumulative Updates for Windows 10
However, after installing recently released Windows 10 Creators Update (V1703), users started receiving following message when they come to Windows Update pane in Settings app:
Your device is at risk because it's out of date and missing important security and quality updates. Let's get you back on track so Windows can run more securely. Select this button to get going: [Check for updates]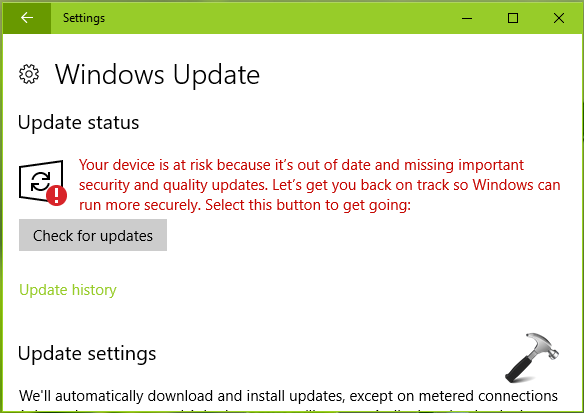 In this case, when you click Check for updates button, Windows looks for new updates but doesn't finds anyone and above mentioned message appears again. So simply, the Check for updates button is of no use here and the problem remains as it is.
If you're also victim of this issue, these suggestions may help you to overcome:
FIX : Your Device Is At Risk Because It's Out Of Date And Missing Important Security And Quality Updates In Windows 10
1. Run the Windows Update troubleshooter. It should found and fix issues with Windows Update.
2. Make sure date, time, region, language and system local are set correctly on the device. If either of these settings remain incorrect, you may face this issue.
3. 'Windows could not search for new updates' is an older issue that existed since Windows 7 days, and we've a dedicated fix for this problem, as mentioned here. So try the steps illustrated in fix, see if they helps.
4. If fix mentioned in point 3 doesn't works, alternatively try installing Windows Updates using Windows PowerShell.
5. Check if you're on Metered Connection. Because if you're on Metered Connection, Windows Updates won't work on it. Try changing your network connection to another one to make Windows Updates working.
6. If you've disabled automatic updates, do remove the restriction by re-configuring concerned GPO and setting it to Not Configured.
7. If problem still persists, try resetting the Windows Update components (FIX 2).
8. In case if nothing helps, go ahead and reinstall Windows 10 without affecting your files or you may also try to repair Windows 10 by performing in-place upgrade instead.
Hope something helps!
Related: Your device needs the latest security updates popup in Windows 10.