PIN sign-in option is considered much better as compared to password. If you've Windows Hello supported device, you can setup face recognition after you setup PIN.
PIN is usually stored on the device as compared to password, which is stored on server. So if someone cracked your password, he can get into the account. But if someone cracked your PIN, he can't sign-in to account unless he have the actual device to which PIN is tied.
According to Microsoft, in Windows 10, PIN is backed by a Trusted Platform Module (TPM) chip, which is a secure crypto-processor that is designed to carry out cryptographic operations. So any changes in the TPM chip or if you've cleared TPM, the PIN associated with it might not work then.
Under this condition, when you use PIN to sign in to your device, you'll have following message displayed:
Your PIN is no longer available due to a change in the security setting on this device. You can setup your PIN again by going to Settings > Account > Sign-in options.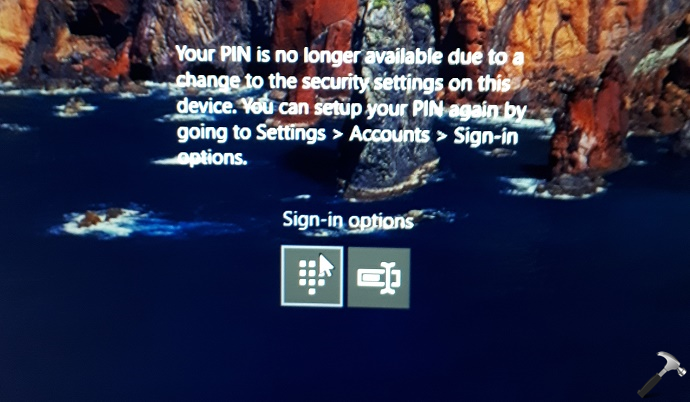 Image credits: Microsoft Community
This issue was experienced by few users recently, who upgraded to Windows 10 April 2018 Update (V1803). It all started with 'Reset your security processor to fix functionality issues' message which started appearing after V1803 update. To fix this warning, users usually opted to clear the TPM. And this give rise to above mentioned sign-in error.
Well, if you're also victim of this issue, try below mentioned steps:
FIX: 'Your PIN Is No Longer Available Due To A Change In Security Settings On This Device' Message In Windows 10
1. First, use password sign-in option on the login screen to get into your account.
2. Then try to change your PIN from Settings app > Accounts > Sign-in options.
NOTE: If you receive "Something went wrong. Try again later" message while changing PIN, follow steps mentioned in this fix.
After changing or creating new PIN, verify if the issue still occurs. It must be resolved by now.
3. If issue still persists, and you can't change or add new PIN as well, try steps mentioned in this fix.
Hope something helps!