When you switch to Microsoft account from local account on your Windows 8 or later running system, then for very first logon after this, your system must be online. Here online means that your system must be connected with web so that Microsoft account servers can identify you. Once you got identified, in the next logon you can sign-in very easily even if you're offline.
Now if on the next logons, you didn't entered the same password which you entered while identification i.e. very first logon – when device was online, you'll greeted with following message:
Your device is offline. Please sign in with the last password used on this device.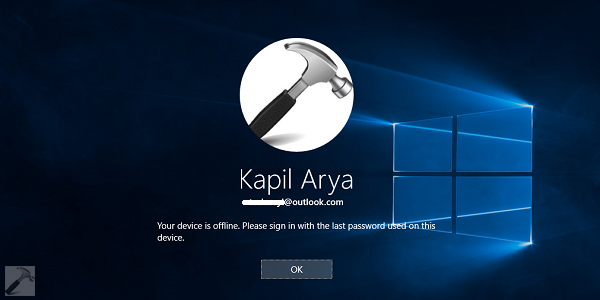 In case, if you're not sure that the password you're inputting correct, try to remind the last used password and enter that. While if you're pretty sure that you're entering correct password on successive logons and you're still receiving same message doesn't matters whether you're online or offline, then you need to try additional steps mentioned below. Here is how to solve this problem:
Recommended : You can't sign in to your PC right now. Go to account.live.com to fix the problem, or try the last password you used on this PC.
FIX : Your Device Is Offline. Please Sign In With The Last Password Used On This Device.
1. Open Command Prompt at boot (refer steps 1-4.d of this article)
2. Type regedit command and hit Enter key to open Registry Editor at boot.
3. Navigate to following registry key:
HKEY_USERS\.DEFAULT\Software\Microsoft\IdentityCRL\StoredIdentities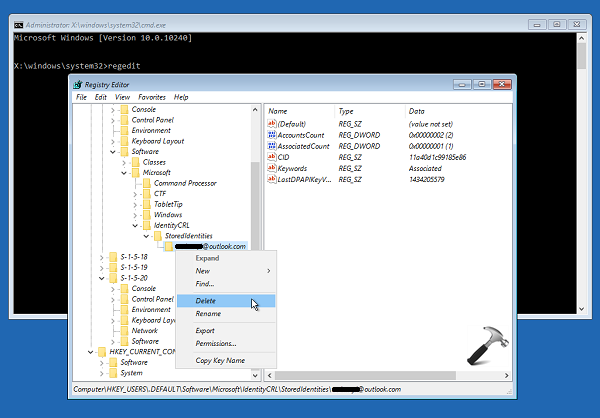 4. In the left pane of Registry Editor window, expand StoredIdentities key and you'll see your Microsoft account sub-key under it. All you need to do here is to identify the problematic account sub-key and delete it. Provide you confirmation with Yes while deleting the key:

Close Command Prompt at boot and continue to your operating system.
5. Additionally, go to your Microsoft account page from any other device (you can use your mobile phone too for this). On your account page, you need to remove the device on which you're facing this issue, using Remove device link. The sample screenshot is provided here: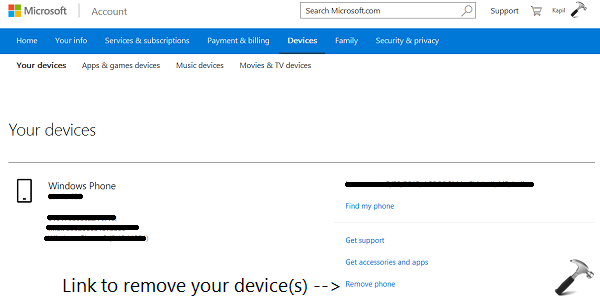 Once you're done with step 5, try to logon on the problematic device. You'll find that this time the issue didn't occurs and you can login as expected.
Hope this helps! Also see how you can use Identity Verification App to protect your Microsoft Account.