Windows Store is the official way to get new apps to your Windows 8 or later running system. But I have seen that many users often unable to open Windows Store, and as a result of this, they miss the stuff provided in Store. Many times this happens due to network issue, while sometimes incorrect settings on user's system may culprit behind it. Recently, we have came around one such issue where Store simply deny to open by throwing following error message:
We weren't able to connect to the Store. This might have happened because of a server problem or the network connection timed out. Please wait a few minutes and try again. (0x80072f8f)

Specifically See : We Weren't Able To Connect To The Store. Error 0x80072efd
As you can see in the screenshot above, there is nothing to help us, which could give a clue to fix this issue. Moreover, the try again link doesn't work at all and even after rebooting the system, we faced same error again and again. Since there is no surety about what is causing this problem, you can try the suggestions mentioned here and see if they helps:
FIX : Can't Open Windows Store In Windows 8 Or Later
SUGGESTION 1 : First of all check your system's date and time. The best thing to make sure about it is to synchronize it with online date and time. To make online synchronization, click date and time in the taskbar -> Change date and time settings -> Internet Time -> Change settings -> Update now. Confirm that regional settings on your machine are correct too.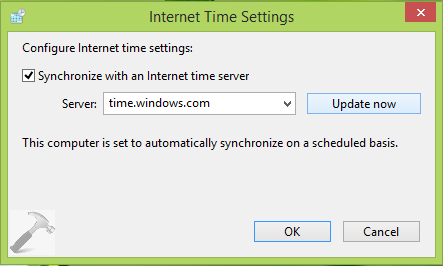 SUGGESTION 2 : Try changing your network connection and test your system with different network settings. Make sure the system doesn't have intermittent connectivity or limited WiFi problem. Also make sure the network connection have enough strong strength.
SUGGESTION 3  : Try to disable or even uninstall your security software like antivirus etc. and check it makes differences in the situation. You should also remove all the third-party tools and run SFC /SCANNOW command in the administrative Command Prompt. If SFC /SCANNOW fails to repair corrupted files, try the DISM commands instead. Also check if turning on/off Windows Firewall solves the problem.
SUGGESTION 4 : Restore your system earlier date using System Restore feature, if the Windows Store worked fine some earlier time on your system.
SUGGESTION 5 : Try the Windows App Troubleshooter to automatically find and troubleshoot issues.
SUGGESTION 6 : Make sure you've set Windows Update settings to Install updates automatically and you're able to receive Windows Update without any hitch.
SUGGESTION 7 : Create a new user account and see if the Windows Store works fine on that. If yes, go ahead with this new account and move your documents from previous account to this one.
SUGGESTION 8 : Re-register Modern Apps using the steps mentioned here. If you're on Windows 10, register all or specific apps here.
SUGGESTION 9 : If you've confirmed all the above mentioned checkpoints and nothing worked, you might consider to Refresh your system. If you've multiple issues on your system, its better to Reset. Backup your important data before proceeding either way.
Hope something helps.
You might also interested to read Windows Store Hangs Or Crashes In Windows 8.1.