In our past, we've shared following article to enable Remote Desktop Connection:
How To Enable/Disable Remote Desktop Connection In Windows 10
We've also seen this guide for making Remote Desktop connection to other devices:
How to use Remote Desktop feature to connect Windows to other devices
However, some users after upgrading to Windows 10 V1903 reported that they see black screen with Remote Desktop. The feature worked correctly in prior version i.e. V1809 but on V1903, the feature is broken and all you've the black screen while using it. If you're also facing this issue, try below mentioned suggestions and see if they helps.
FIX: Black Screen With Remote Desktop In Windows 10
FIX 1 – General Suggestions
1. First of all, make sure you've latest display drivers installed.
2. If you've latest display drivers installed, open Device Manager and switch to Microsoft Basic Display Adapter and see if Remote Desktop works fine then. To install this driver, perform these steps:
a. Open Device Manager.
b. Click Action > Add legacy hardware > Next > Install the hardware that I manually select from a list (Advanced) > Next > Display adapters > Microsoft.
c. Select Microsoft Basic Display Adapter and click Next to Install it.
TIP: You can also use Update Driver wizard and install the same driver.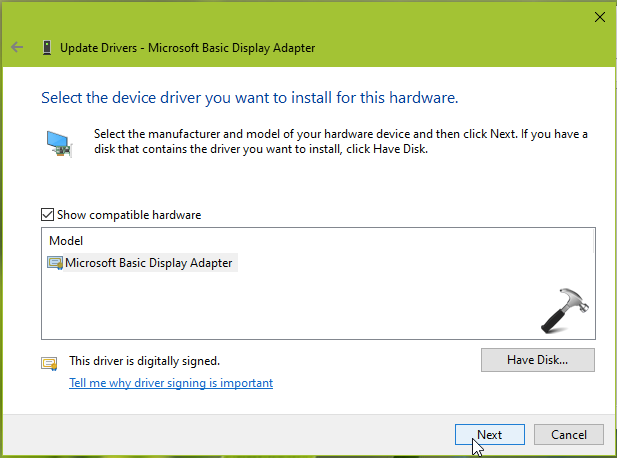 3. Ensure that you've set screen resolution and DPI scaling to Recommended level.
4. Run Network Adapter troubleshooter to fix network issues, if any.
FIX 2 – Via Registry Or Group Policy
1. Open administrative Command Prompt.
2. Type following and press Enter key:
REG ADD "HKLM\SOFTWARE\Policies\Microsoft\Windows NT\Terminal Services" /v "fEnableWddmDriver" /t REG_DWORD /d 0 /f

3. Close Command Prompt and reboot.
If you want to deploy above registry manipulation to multiple machines in your organization, set Use WDDM graphics display driver for Remote Desktop Connections Group Policy setting at Computer Configuration > Administrative Templates > Windows Components > Remote Desktop Services > Remote Desktop Session Host > Remote Session Environment to Disabled. This will basically force Remote Desktop to use XDDM instead of WDDM.
FIX 3 – Install KB4512941 In Windows 10 V1903
Microsoft has addressed this known issue for V1903 users with KB4512941. So if you're facing this issue, you must install KB4512941 and this problem will be fixed. You can also use Update Catalog website and install KB4512941 manually and specifically.
That's it!