Usually when Windows Updates are being installed, you're not recommended to turn off your computer. However, some unexpected events may cause shutting down of your machine and make updates failed installed.
So if your system was turned off in middle of updates installation, you will see following message in Windows Update pane under Settings app:
We couldn't install some updates because the PC was turned off.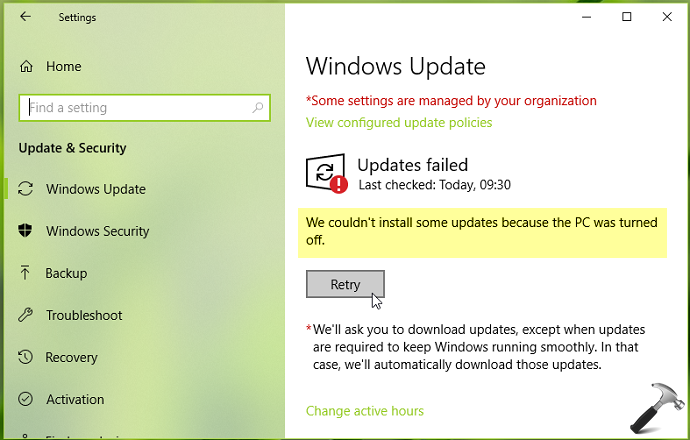 There might be two cases now. First, some of the updates may failed while rest installed. Second, no updates were installed. You need verify the actual condition and proceed accordingly to fix this message.
You can try below mentioned suggestions to get rid of this error message.
FIX: We Couldn't Install Some Updates Because The PC Was Turned Off Message In Windows 10
1. First of all verify, if the updates are actually installed or not. For this, go to Settings app > Update & Security > Windows Update > View installed update history. In some cases, the error may be false positive. If you can confirm that updates were installed OK, ignore the error message and you're good to go! If updates actually failed to installed, carry on next steps to troubleshoot.
2. Try checking for the updates again and install them manually. You can also install manual updates via update catalog. In update catalog, search for failed updates on your system and download them manually and install.
3. If the updates keeps failing again, then update database might be corrupted. Fix it using steps mentioned in this fix and try to update.
4. If update still refuses to install, run Windows Update troubleshooter from Settings app > Update & Security > Troubleshoot. The troubleshooter may hopefully find and fix the issue.
5. If troubleshooter provides no help, go ahead and reset Windows Update components.
6. In case if Windows keeps installing some of the updates again and again, refer this fix or block these updates.
7. If you're installing a feature update and getting this error, try alternate method to upgrade your Windows version. The best alternative method is to perform upgrade via ISO file.
8. If none of the above suggestions help, perform clean install.
Hope something helps!
Related fixes:
1. We can't install some updates because other updates are in progress.
2. There were some problems installing Windows Updates, but we'll try again later.