Recently Microsoft pushed the Windows 10 November Update for end users, about which you can read in following article:
Windows 10 November Update Released, Download Now
If your system can't detect update, read about that also in the same article linked above. We have found that many users are having issues when they install this update. Users are not able to complete the installation of update and gets either of following symptoms:
The update freezes at 44% or some other percentage and never goes beyond that.
The update does not initiate to install at all.
The update install but then takes you back to build 10240.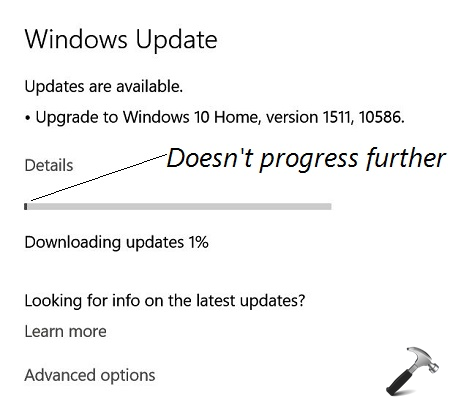 If you see any of the behavior listed above, this article will help you to survive in this condition, so that you can install the update and avail its benefits.
FIX : Windows 10 November Update Fails To Install
Though there is no specific fix for this problem, since many factors may dominate in this issue. You can try these fixes and see if they helps you:
FIX 1 – Check Whether You Can Install Other Updates
We've to first verify whether Windows Update is working properly on your system or not. For that, try installing other updates and see if they installs.
In case, none of the updates install and all of them freezes/does not initiates, you may need to reset Windows Update components. You may try Windows Update Troubleshooter as well, to automatically detect and patch issues. Also make sure, you've unplugged all the external devices such as USB/SD card, printers to the system while installing update.
If only November Update freezes and others install flawlessly, try FIX 2.
FIX 2 – Install November Update Using Windows PowerShell
In Windows 10, Windows Update doesn't allows us to install a single and particular update. So you can use the this PowerShell based method, which will help you to detect and specifically install November Update.
Steps to install specific update in Windows 10
If November Update still fails to install, you can head on to FIX 3.
FIX 3 – Download Windows 10 ISO Which Includes November Update
If FIX 1 and 2 collectively didn't solved the issue, then you may have to reinstall Windows 10 without affecting your data. But why to reinstall when you still have a good option left! That option is to download Windows 10 ISO which includes the November Update and you can use that ISO to upgrade from build 10204 to 10586.
Hope something helps!