If you're using Windows Phone, you should be aware of Bing lock screen wallpaper feature. This feature automatically refreshes your lock screen image on a daily basis. The feature was very well appreciated by the users and Microsoft has now brought the same feature to Windows 10 and called it Windows Spotlight. It was available from build 10240 onwards, which was also the first Windows 10 RTM, released last year. However, as far as build 10240 is concerned, the feature was missing from Pro editions. With the November Update (V1511, Build 10586), the feature was included in Pro editions as well.
Windows Spotlight Feature In Windows 10
If you're new to Windows 10, let me tell you how to enable Windows Spotlight feature. Open Settings app and go to Personalization > Lock Screen. Then in the corresponding right pane, click the drop down against Background and you'll able to see Windows Spotlight option. Once it is selected, Windows Spotlight feature gets active on your machine.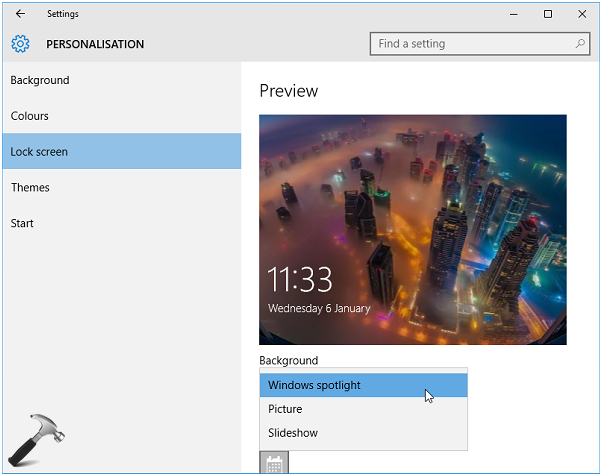 Please note that you must be connected to the Internet to make this feature working. Else, Windows will not able to download or get new images for your lock screen. Here is lock screen featuring Windows Spotlight image: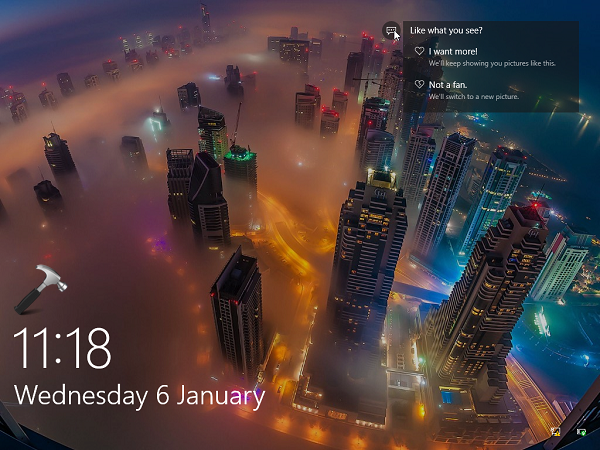 Recently, few Windows 10 users asked me to suggest a solution, as Windows Spotlight feature was not working for them. If you're also having same issue, you can try out the suggestions mentioned below and see if something works for you.
FIX : Windows Spotlight Not Working In Windows 10
FIX 1 – Using File Explorer
1. Disable Windows Spotlight feature in Settings app, i.e. select Picture/Slideshow option for Lock Screen background.
2. Press

 + E keys to open File Explorer and click View. Then check Hidden items option. Now navigate to following location:
C:

\Users\

<USERNAME>

\AppData\Local\Packages\Microsoft.Windows.ContentDeliveryManager_

<Package ID>

\LocalState\Assets
*Substitute C: with your system root drive and <USERNAME> with your user account name. Here, Package ID may be arbitrary value like cw5n1h2txyewy.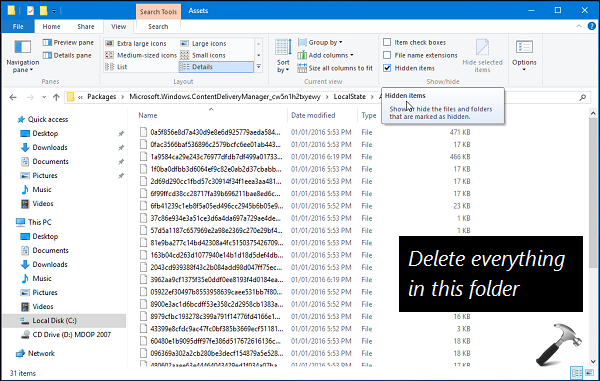 3. In the Assets folder, delete everything and make the folder empty.
4. Now enable Windows Spotlight feature in Settings app. Then press

 + L keys to lock screen and check. You should be able to see Windows Spotlight screen now.
FIX 2 – Using System Maintenance Troubleshooter
In case if issue still persists after trying FIX 1, you can run the System Maintenance troubleshooter.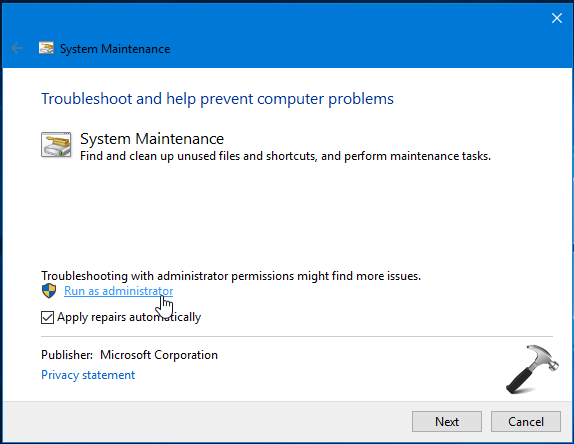 Here is the step-by-step guide to learn how to run this troubleshooter:
How to run System Maintenance troubleshooter in Windows 10
I hope after trying both the fixes, problem would be resolved. Here is the video to illustrate more:
If Windows Spotlight is still not working as expected, go here to re-register Windows Spotlight or create a new user account. Don't forgot to check, how to save spotlight images in Windows 10.

That's it!
Also See: 'Like What You See' Missing For Windows Spotlight.