We all love to install new programs of our choice in our Windows operating system. Sometimes installation of program goes smoothly, if the developer has finely tested the program and its coding is clean. While in some other cases, problems may arise and users are served with different error messages/codes that prohibits him from installing the program. Similarly, different issue may also occur when you uninstall programs. In this article, we're going to talk on one such issue we recently came around while installing a program on Windows 10.
Following message appear while attempting installation of program:
The feature you are trying to use is on a network resource that is unavailable.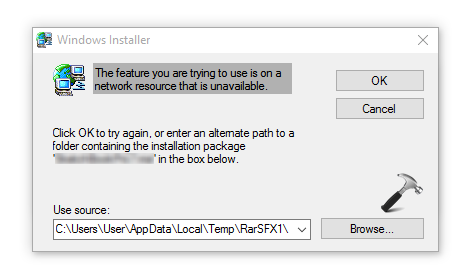 As you see the message doesn't lets you to install/uninstall programs. Users facing this problem are suggested to ensure that Windows Installer service is running on their system. You can follow below linked guide to learn how to start that service:
Steps to start Windows Installer in 3 different ways
If the issue still persists even after starting Windows Installer service, go ahead and try the fixes mentioned below.
FIX : The Feature You Are Trying To Use Is On A Network Resource That Is Unavailable Error In Windows 10/8.1/8/7
FIX 1 – Using Program Install And Uninstall Troubleshooter
This problem can be resolved using Microsoft's official Program Install and Uninstall troubleshooter. The Redmond software giant has already embedded 22 built-in troubleshooters in Windows 10 but have also created additional troubleshooters like Program Install and Uninstall troubleshooter to deal complex situations. You can download this troubleshooter using following link:
It is supposed to work on Windows 10, 8.1, 8 and 7.
1. When you download Program Install and Uninstall troubleshooter using above link, Windows will automatically run it once it is downloaded. In the window shown below, check Apply repairs automatically and click Next.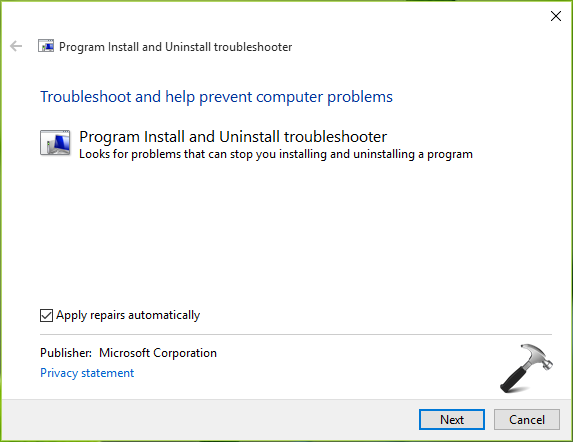 2. Then select whether you've issue while installing or uninstalling the program and click justified option.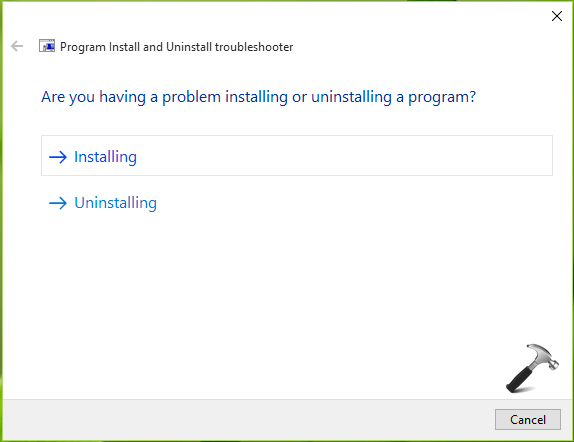 3. Moving on, you can then select the program with which you're facing this issue. Click Next.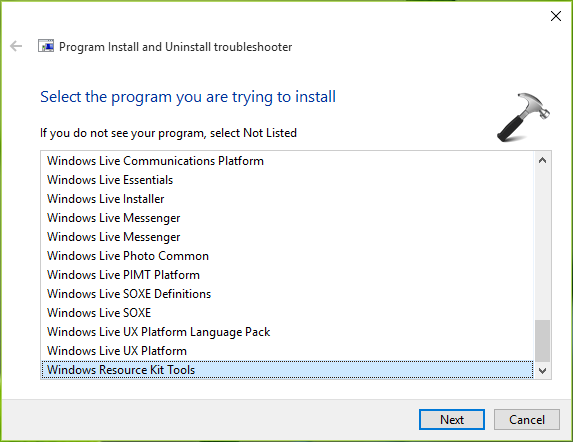 4. If the issue is uninstalling the program, you should choose Yes, try uninstalling. Do same, if case is of installing. Click Next. The troubleshooter will then patch registry and attempt to find and resolve issues automatically.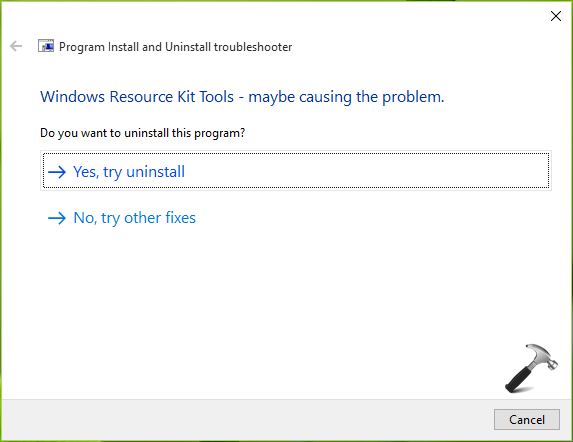 Once completed, you can close troubleshooter and return to Desktop if you like. You can now re-try installing/uninstalling the program and it should work. If it doesn't, check FIX 2.
FIX 2 – Using Registry Editor
Registry Disclaimer: The further steps will involve registry manipulation. Making mistakes while manipulating registry could affect your system adversely. So be careful while editing registry entries and create a System Restore point first.
1. Press

+ R and put regedit in Run dialog box to open Registry Editor (if you're not familiar with Registry Editor, then click here). Click OK.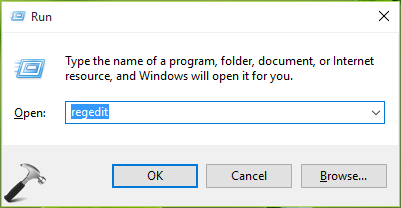 2. In the Registry Editor window, navigate to following registry key:
HKEY_LOCAL_MACHINE\SOFTWARE\Classes\Installer\Products
3. Expand Products registry key and you'll see some long randomly named sub-keys. For each of these sub-keys, in the corresponding right pane, you can use ProductName registry string (REG_SZ) to identify to which program this sub-key belongs. Following that, you've to find the correct sub-key for the program with which you're having issues. Once you spotted correct sub-key, right click on it and select Backup. Save the registry file with .reg extension, in case if is required in future. Then do a right click on same sub-key and select Delete. Click OK in confirmation prompt.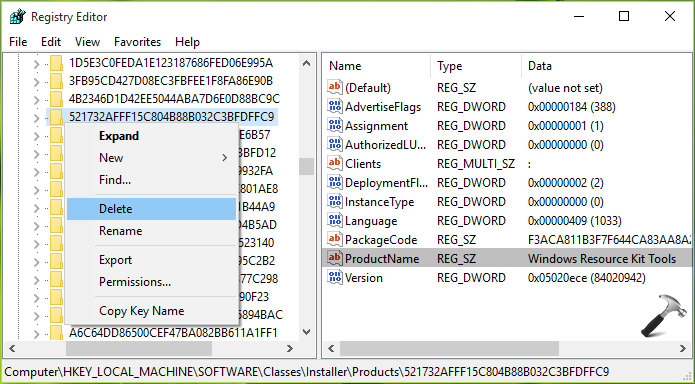 You can now close Registry Editor and re-try to install/uninstall program and issue should be resolved now.
Drop us a comment if you still have issue!