Windows Store helps you to update existing apps and download new ones in Windows 10. But sometimes due to corruption of some files or settings, you may not be able to open Store. In this article, we'll see the things you can do when Store app is unable to start. You're likely to receive this message under this situation:
You'll need a new app to open this ms-windows-store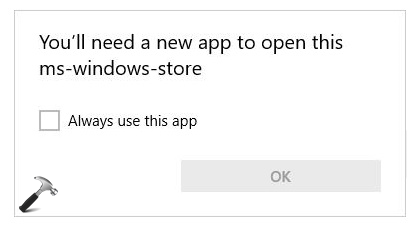 Following might be the reasons behind this problem:
Required files to open Store app is missing or corrupted
There is some issue with your local account/Microsoft account (MSA)
A third-party software you've used has broken the app
Except these three points, some of unknown factors may be involved such interruption from some another feature/app. To fix this problem, you can try suggestions mentioned below. They may individually or collectively solve the problem for you.
FIX : You'll Need A New App To Open This ms-windows-store In Windows 10
1. First of all, run Windows Store Apps troubleshooter. It will help you to detect the cause and try to fix it automatically.
2. Reset app cache by by running WSReset.exe command in Command Prompt.
3. Another thing you can try is to reset Store app using steps mentioned here. This is applicable only to Windows 10 Version 1607 (build 14393/Anniversary Update) or later.
4. Run System File Checker or DISM commands to fix file corruption which might cause this issue.
5. If you've any third-party software like anti-virus installed, try uninstalling it for a while and see if it helps.
6. Try re-registering Store app using steps mentioned here. You may also re-register all app here, in case if you're facing this problem with other apps as well.
7. Switch to MSA, if you're on local account. Then run Microsoft Accounts troubleshooter and fix issues with your MSA for apps in Windows 10. Also verify the account as well.
8. Create a new user account and test Store app on that. If Store works there, you can try using that account and import your stuff from old account to it.
9. In your favorite browser, search for the app you want to download from Store. Click on the official link in search results (which is Store app link) and this should automatically fire up Store app.
10. If nothing helps, you can try reinstalling Windows 10 without affecting your data.
Following video illustrate this fix by suggestion mentioned in point 6:
Hope something helps!