Although Mozilla is claiming that Firefox is 32 times faster than Firefox 1, but there exists some ways to increase the speed of Firefox even more. Yes! even more, let's see how could we:
How To : Enhance Speed Of Mozilla Firefox Even More
1. Type about:config in the URL bar. Now click "I'll be careful, I Promise".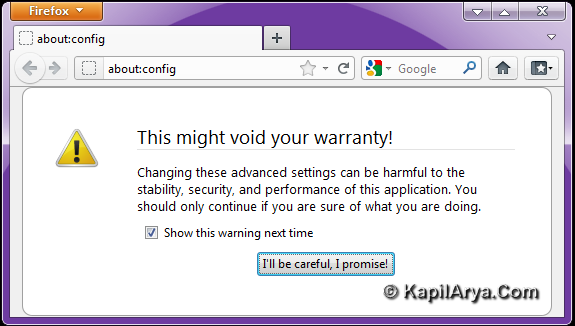 2.In the Filter box, type browser.display.show_image_placeholders and double click on the resulted entry to set it to False while its default is True. This stops the display of placeholders while images are loading and prevents slowing down of loading of pages.


3. Next, do the same for browser.tabs.animate setting i.e. set it to False as well. This will disable all tab animation features.


4. Moving on, increase the number of persistent connections which can speed up loading rich multimedia and flash sites. To do this type network.http.max-persistent-connections-per-server in Filter and set its value to 8 while default value is 6.

5. Next, allow the browser to send multiple request for loading. However, this is not supported by all networks. To do this set network.http.pipelining to True while default is False.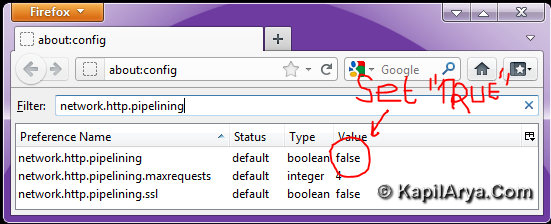 6. Set the maximum number of requests which can be pipelined throughout to prevent overloading the server. The maximum value makes it to do so. Here that maximum value is 8. So set network.http.pipelining.maxrequests to have its value as 8, default is 4.

7. You can also disable IPv6 DNS look ups to make sites responsive quickly. For this, set network.dns.disableIPv6 to True, default is False.

8. Direct access to a site : Just type the site name, for example "kapilarya", and it will automatically go to www.kapilarya.com without performing standard search. To do this type, keyword.url in filter box. Now type following address:
http://www.google.co.in/search?ie=UTF-8&oe=UTF-8&sourceid=navclient&gfns=1&q=
Change Google's domain, if you're outside of India.
Hope you find these tip useful!