We all use different third-party tools in Windows for fulfilling various aims. The only disadvantage of these tools is that they sometimes mess up with original system files and change their behavior. We're not saying that every program goes that way, but some programs can't be ignored for this analogy. So the result of using such tools in some cases may led to failing of logon process. In this article, we're telling you about Sign-in process initialization failure error, resulted after using a third-party software on Windows 10 running machine.
The complete error message the user received is:
Sign-in process initialization failure
Interactive sign-in process initialization has failed.
Please check the event log for details.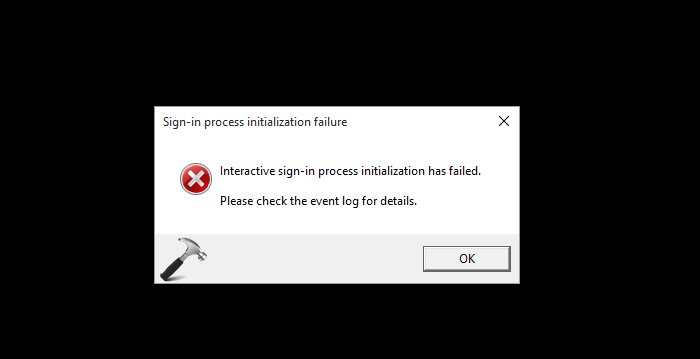 Since you can't pass beyond this error message, it is not feasible to consult the event log on a standalone machine. However, if the machine is part of domain, you may able to check event logs and troubleshoot accordingly. On an idle machine, following are the ways to fix this hiccup:
FIX: Sign-in Process Initialization Failure In Windows 10
FIX 1 – Perform Startup Repair
By performing Startup or Automatic Repair, this problem can be solved very easily. Following article shows step-by-step guide to carry on Startup Repair in Windows 10:
How to perform Startup Repair in Windows
In case, if Startup Repair couldn't fix your system, you can try the specific FIX 2 for this problem.
FIX 2 – Restore Missing LogonUI File
LogonUI file or application sits in System32 folder under your Windows directory aka %WinDir% folder. If a third-party tools modifies this application, renames it or erases it, the above mentioned error may occur. So our aim here is to restore this file to its original identity.
How to find that LogonUI is missing/renamed?
If you're on dual boot system, locating LogonUI is quite easy. You can boot to another OS and using File Explorer and browse to %WinDir% of problematic OS. While for machine with single OS, you need to install a new OS on a parallel drive, so that resultant is dual boot system. You can then verify the status of LogonUI file using similar approach mentioned for dual-boot system. If it is missing, copy it from the new OS (must be same edition and architecture) you installed, to old OS with issue.
If you can locate LogonUI file with different name, here is how to restore its original name:
1. Open Command Prompt at boot in problematic OS, from Advanced Recovery Options.
2. Type following commands and press Enter after each of them:
diskpart
list volume
exit
cd 

<system drive>
cd Windows
cd System32
ren 

<old LogonUI file name>

 LogonUI.exe
exit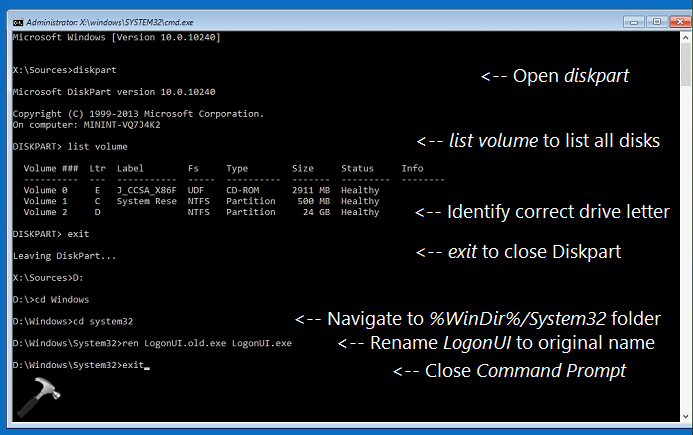 3. Continue to your OS on next screen or restart it. After rebooting, you will be able to login normally – as expected.
Here is the video to help you more:
Let us know if this helps! If problem still persists, go ahead with reinstalling Windows 10 without affecting your files.