On April 11th 2017, Microsoft started rolling out Creators Update (V1703) to every Windows 10 device, via Windows Update:
Windows 10 Creators Update Released, Download Now
You can install this upgrade using Media Creation Tool and Windows 10 Upgrade Assistant:
Upgrade To Windows 10 Creators Update (V1703) Using Upgrade Tools
However, since it an update, users prefer to install it using Windows Update. And this has lead some users to issues, which won't allow them to complete the update. Users are usually reporting following statements:
Creators Update not appearing in Windows Update.
Failed to download Creators Update.
Successfully downloaded but failed to install Creators Update at some XX%.
Installation went fine but after final reboot, you're still on Anniversary Update (V1607) or the previous Windows 10 version you were using.
Something went wrong error with Windows 10 Update Assistant, followed by error code 0xc1900107.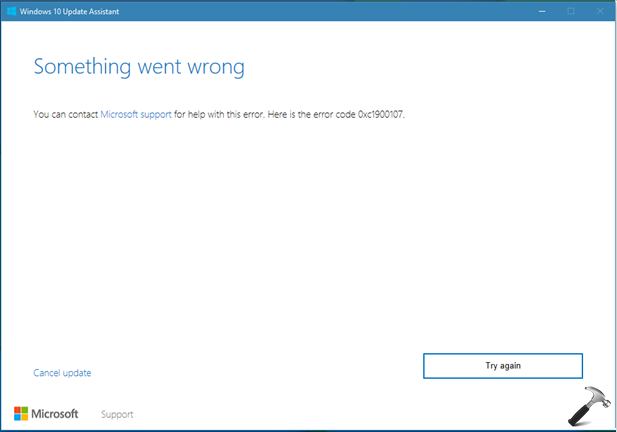 If you've faced any of these symptoms, in this article, we'll try to help you to get rid of the problem.
FIX : Windows 10 Creators Update Failed To Install
1. First things first, run the Windows Update troubleshooter to fix issues with Windows Update.
2. Clear temporary files/cache using Disk Cleanup Utility in Windows.
3. Navigate to your system hard drive, such as C: drive, and look for $WINDOWS.~BT folder. This is a hidden folder so make sure in the View tab of File Explorer, you've checked Hidden items to appear that folder. Once you spot the folder, delete it and restart your computer and thus the upgrade.
4. Rename the SoftwareDistribution folder to SoftwareDistribution.old under C:\Windows folder and see if it fixes the problem.
5. Try the clean boot. For this run msconfig, under Services, check Hide all Microsoft services and click Disable all. Reboot and check if you can upgrade now.
6. Open Control Panel, click Power Options > Choose what the power buttons do > Change settings that are currently unavailable. Now for Shutdown settings, uncheck Turn on fast startup. Retry upgrade.
7. Using Cortana, search for reliability history and pick View Reliability History from the results. In the Reliability Monitor window, click View all problem reports. This will help you to trace the issue.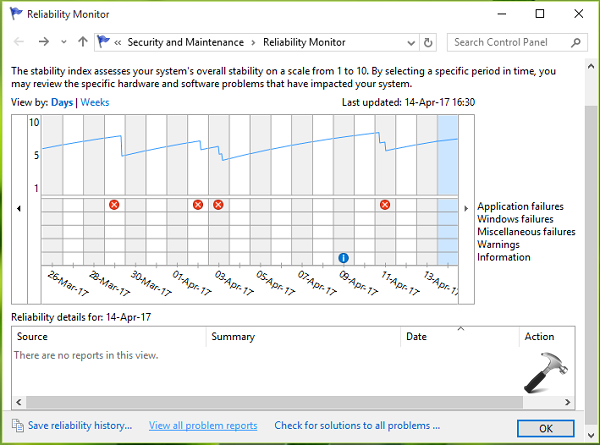 8. If you can't follow step 7, look for the Windows Update log files at C:\$WINDOWS.~BT\Sources\Panther and C:\Windows\Panther. Post those log files to Microsoft Community/Technet IT Pro forums to have expert analysis of the problem and the solution for it.
9. If you're going with Windows Updates, check alternative options to upgrade such Windows 10 Upgrade Assistant or Media Creation Tool and vice versa.
10. Still having issues? Backup your important data on USB/external drive, download Windows 10 Creators Update ISO from here and make clean install.
Hope this helps!
Also check:
1. Windows 10 Anniversary Update (V1607) failed to install