We all know Microsoft officially released Windows 10 V1909 on few days ago. V1909 or November 2019 Update comes with some additional features but the update is however optional for users. This means it will not download until users opt for the update and proceed to download and install it. There are some blockages due to which systems incompatible for the update may not see or receive it.
Recently we came around an issue where some users are facing with V1909 update. In this case, customers see error code 0x800f081f while downloading the V1909 update. The error code followed by common There were problems installing some updates, but we'll try again later message.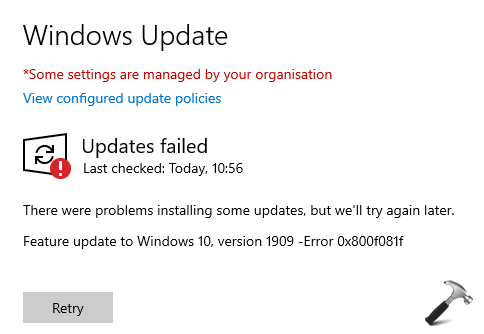 Image credits: Microsoft Community.
So if you're also unable to install V1909 upgrade, please checkout suggestions below and see if they helps.
FIX: Windows 10 V1909 (November 2019 Update) Failed To Install
FIX 1 – General Suggestions
1. Run Windows Update troubleshooter.
2. Repair Windows Update database corruption.
3. Reset Windows Update components.
4. Try upgrading via Upgrade Assistant tool. This tool will help you to download V1903 or any prior version to V1909. Simply download it from here and run it with administrative privileges.
5. Try upgrading via V1909 ISO file. Refer step-by-step instructions in this guide.
FIX 2 – Install KB4515384 On V1903
If you're on Windows 10 V1903 and facing this issue while installing V1909, check if you've installed KB4515384. Some users have found that if you've KB4515384 installed, V1909 update will not give you error code 0x800f081f. The KB4515384 was released on September 10, 2019 and it updates your system to build 18362.356. You can specifically install KB4515384 by following this guide. Note that this is not the exact solution but temporary workaround which works atm. However, you can upgrade to V1909 via ISO file and that should work and much preferred solution.
In case if the update still fails, you need to check upgrade logs then. To receive proper assistance with logs, you may create new thread at official Microsoft forums and include log files in it. Log experts may analyze the log files and can help you to figure out where the upgrade exactly failed.
Hope this helps!