We all know Boot Configuration Data (BCD) file stores the data about Windows Boot Manager (bootmgr). So the data on this file drives the bootmgr and allows it load the operating system mentioned in BCD file. The BCD file is likely to be located at \Boot\BCD on BIOS and \EFI\Microsoft\Boot\BCD on UEFI systems.
If the data on BCD file is corrupted or is invalid, bootmgr will be unable to process that data and thus your PC cannot boot. Under this scenario, you may see a recovery screen as shown below.
Recovery
Your PC needs to be repaired
The Boot Configuration Data file doesn't contain valid information for an operating system.
File:\Boot\BCD
Error code: 0xc0000098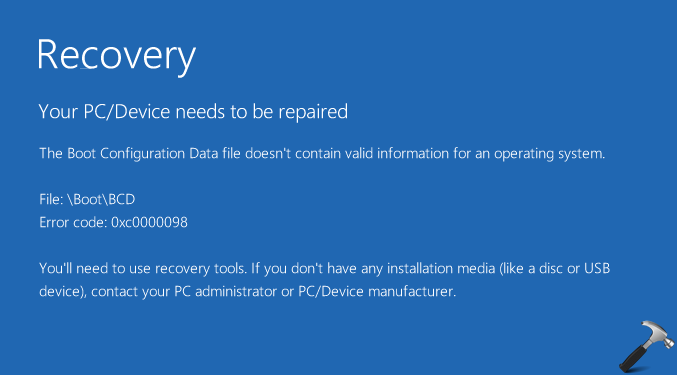 Windows 7 users may receive the following message instead, along with same error code:
The Windows Boot Configuration Data does not contain a valid OS entry.
If you're facing this problem, you either need to repair the BCD file or reinstall the operating system. There are some easiest commands to repair the BCD file or simply re-generate it. So users facing this problem on their Windows 10/8/7, there is no need to worry at all! By following the fixes mentioned below, you'll be able to suppress the error easily.
FIX: The Boot Configuration Data File Doesn't Contain Valid Information For An Operating System In Windows 10/8/7
FIX 1 – General Suggestions
1. Boot into Safe Mode. If you successfully able to boot then try rebooting to normal mode.
2. Perform the Startup/Automatic Repair.
3. Perform System Restore if you've restore points created before the problem started. You can restore the System Image backup as well.
4. Run chkdsk /r /f c: command (assuming Windows is installed on C:) in the Advanced Recovery Command Prompt.
5. If you don't enough data on the OS and its a new installation, you can Refresh or perform in-place upgrade.
FIX 2 – Recreate Boot Records
You can recreate boot records and fix the Master Boot Record (MBR) to fix this issue finally. Follow the steps mentioned here to re-generate the boot records:
Steps to fix BCD and MBR in Windows 10/8.1/8/7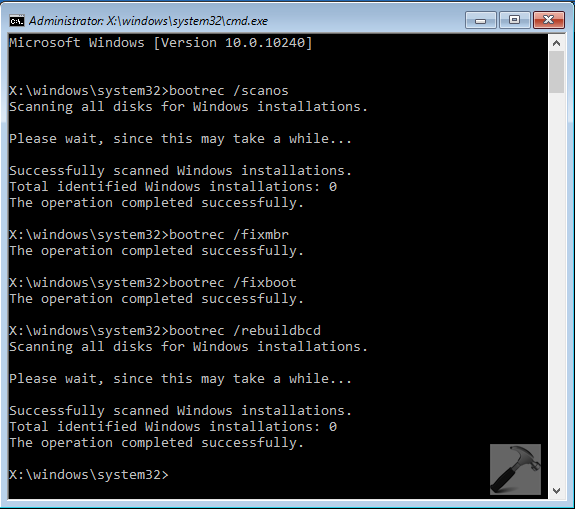 After repairing boot records, you should be able to boot normally without any recovery error screen.
That's it!
Related: The Boot Configuration Data file is missing some required information.