Earlier, we have seen how to fix low memory problem on Windows 10 in following article:
Fix: 'Your computer is low on memory' error in Windows 10
As far as low memory problem is concerned, it might happen due to high use of resources by some of the programs. Today, in this article, we will talk about yet another similar issue in which you found that your Windows system is consuming 100% disk space. We recently came across this situation in one of the Windows 10 Pro running system. In the Task Manager, under Performance tab, the disk utilization reaches to 100% due to which system became lagging and unresponsive. It started freezing in few moments and this keeps happening until disk usage reduces from 100%. This can be observed in following screenshot: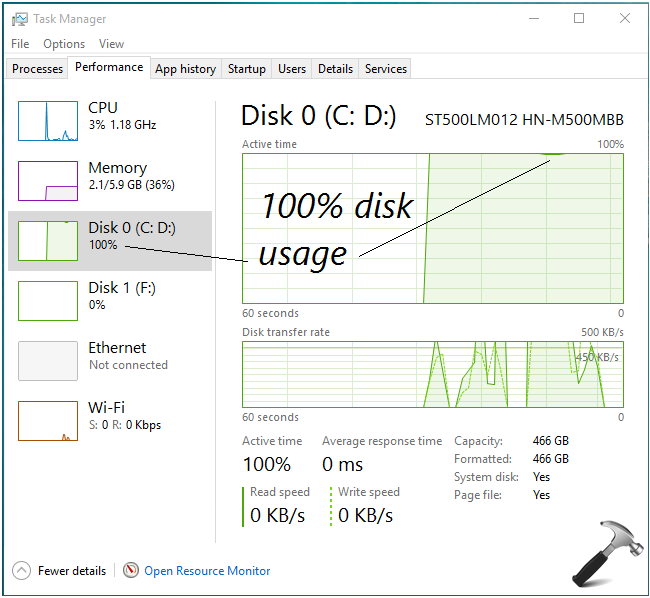 If you're also facing this problem, it is very important that you fix it asap. Because lagging machines shows poor productivity and gives worst user experience. According to Microsoft, the reason behind this issue is presence of Message Signaled Interrupt (MSI) mode which is enabled by default. When MSI is active, Solid State Drives (SSDs) are unable to complete input/output (I/O) requests under a period of time and Windows storage stacks have to reset disk devices after waiting indefinitely for read/write responses. These resets makes Windows to consume 100% of disk space which affects other resources on machine and hence system becomes unresponsive.
The issue can be fixed by disabling MSI mode for your Advanced Host Controller Interface (AHCI) used by StorACHI.sys driver. Here are the complete steps:
FIX : Windows 10 100 Percent Disk Usage Problem
1. Press  

 + R and type devmgmt.msc in the Run, hit Enter key to open Device Manager snap-in.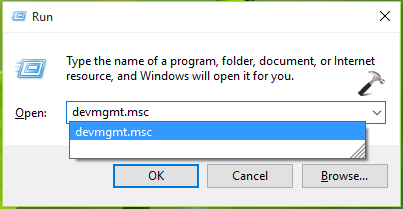 2. In the Device Manager window, expand IDE ATA/ATAPI controllers and right click on Standard SATA AHCI Controller, select Properties.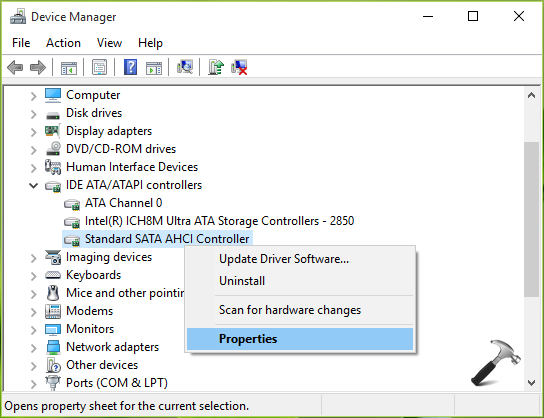 3. In the property sheet, switch to Driver tab and click Driver Details.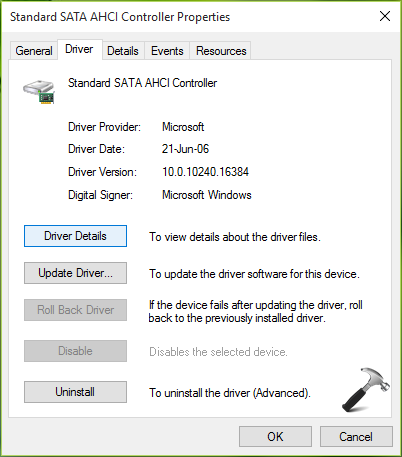 4. If the Driver File Details window shows storahci.sys driver listed there, it means you're running inbox driver and hence it is possible to disable MSI mode. Click OK.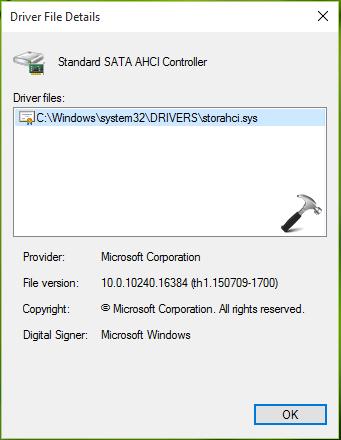 5. Back on the property sheet, switch to Details tab. Against Property, select Device instance path from drop-down and note down the Value mentioned there.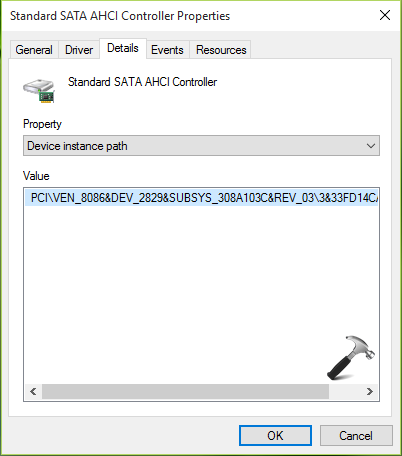 Registry Disclaimer: The further steps will involve registry manipulation. Making mistakes while manipulating registry could affect your system adversely. So be careful while editing registry entries and create a System Restore point first.
6. Press

+ R and put regedit in Run dialog box to open Registry Editor (if you're not familiar with Registry Editor, then click here). Click OK.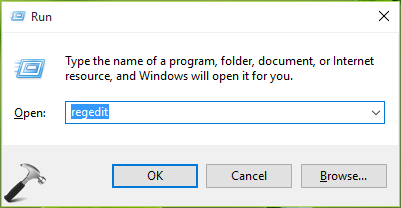 7. In the Registry Editor window, navigate to following registry key:
HKEY_LOCAL_MACHINE\SYSTEM\CurrentControlSet\Enum\PCI\

<AHCI Controller Value>

\Device Parameters\Interrupt Management\MessageSignaledInterruptProperties
*Substitute <AHCI Controller Value> we got in step 5.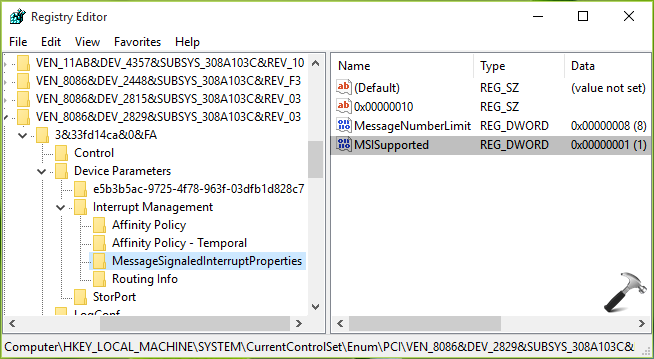 8. In the right pane of MessageSignaledInterruptProperties key, look for the registry DWORD (REG_DWORD) named MSISupported which should be corresponding to Value 1 as its Data. Double click on the DWORD to modify its value: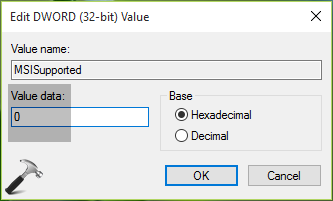 9. Finally, set the Value data as 0 and click OK. Close Registry Editor and reboot. After restarting your machine, the 100% disk usage problem should disappear.
Check this video to illustrate this fix:
Hope this helps!
Related: Fix high CPU usage problem in Windows 10.