Few hours ago, Microsoft released the fourth massive feature upgrade to Windows 10. Yes, we're talking about Windows 10 Fall Creators Update (V1709) which is released recently. Learn more about it here:
Windows 10 Fall Creators Update (V1709) Is Available Now
Since many factors are involved in download and upgrade process for such a big update, this may not work smoothly for all users. And with Fall Creators Update, some users are struggling with download and installation issues – right now. If you're also facing issues while upgrading to Windows 10 V1709, this article is for you.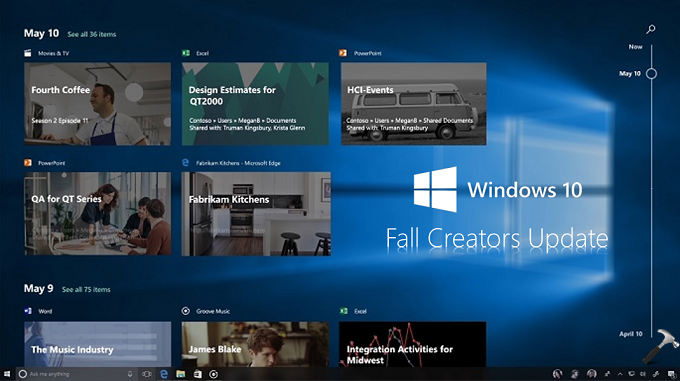 First of all you might be aware you can upgrade to Fall Creators Update via – Windows Update, Media Creation Tool, Fall Creators Update Upgrade Assistant. So in case, if either of these ways is not working, you can try another one.
Also see if the suggestions mentioned below helps you to overcome situation.
FIX: Windows 10 Fall Creators Update Failed To Install
CASE 1 – If you can't detect Windows 10 Fall Creators Update
1. If you can't detect the update, make sure your system date and time plus regional settings are correct. You also need to ensure you're not on Metered Connection or if you've not blocked updates via Group Policy.
2. Disable or temporarily uninstall third-party antivirus and firewall (if exists), because they may also block the update.
3. Make sure Windows Update service is Running and have its Startup type set to Automatic.
4. Opt for either Media Creation Tool or Fall Creators Update Upgrade Assistant, if you still have issues detecting the update.
CASE 2 – Windows 10 Fall Creators Update download fails
1. Make sure your network connection is stable. Run Network Adapter troubleshooter, just in case if there are any issues.
2. Reset Windows Update components:
Open administrative Command Prompt and type following commands one-by-one followed by Enter key.
net stop wuauserv
net stop cryptSvc
net stop bits
net stop msiserver
Ren C:\Windows\SoftwareDistribution SoftwareDistribution.old
Ren C:\Windows\System32\catroot2 Catroot2.old
net start wuauserv
net start cryptSvc
net start bits
net start msiserver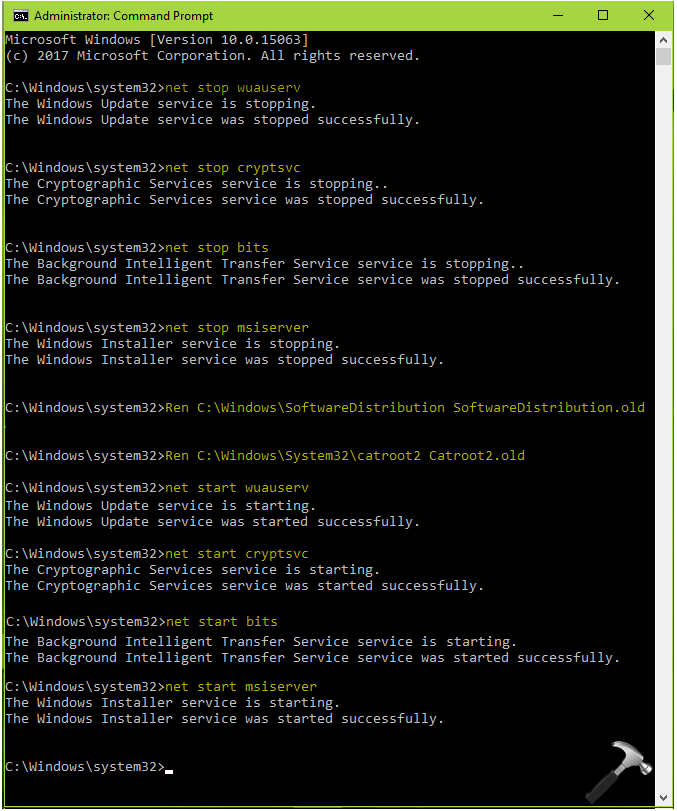 Close the Command Prompt window and reboot the machine and see if you can download update now.
CASE 3 – Windows 10 Fall Creators Update installation fails
1. Make sure you've plenty of disk space available. Keep around 20GB free while your upgrade. You may use Disk Cleanup utility to gain space from unnecessary files.
2. Stay online even when you're performing installation/upgrade process.
3. Run the Windows Update troubleshooter to check and fix additional issues.
4. Some users reported that while installation, they came to see 'Restoring your previous version' screen and they're back to Creators Update again. Such users may need to make clean install of Fall Creators Update.
Let us know if you still have any issue. Hope this helps!
Related:
1. Windows 10 Creators Update (V1703) failed to install
2. Windows 10 Anniversary Update (V1607) failed to install