When you make clean install of Windows, the next step for you is to activate this new installation. Unless you activate your Windows copy, certain features won't work for you. Read this article to learn, can you use Windows without activation.
From the linked article mentioned above, it is evident that users may frequently get notifications to on unactivated Windows. So in order to let your Windows function correctly, Microsoft asks you to activate your Windows system with proper license. How you can activate your Windows completely depends on how you actually got your license. Read more about type of licenses in Windows in this article.
How To Activate Your Windows 10
First of all, you need to check current Activation status. Go to Settings app > Update & Security > Activation. You will need to activate your system, if the Activation status mentions Windows is not activated.
There are two methods of activating your Windows:
Method 1 – Via Product Key
Product key as also available with previous Windows operating systems is a 25-character unique code in XXXXX-XXXXX-XXXXX-XXXXX-XXXXX format.
You can activate Windows 10 with product key under following conditions:
You got your Windows 10 from Visual Studio (earlier Technet/MSDN) subscription
You bought your Windows 10 from authorised reseller
You bought your Windows 10 from Microsoft Store online.
You bought your Windows 10 pre-installed on the device which usually contains OEM license.
To find your product key, refer this article.
To activate using the product key, perform these steps:
1. Go to Settings app > Update & Security > Activation and click Change product key.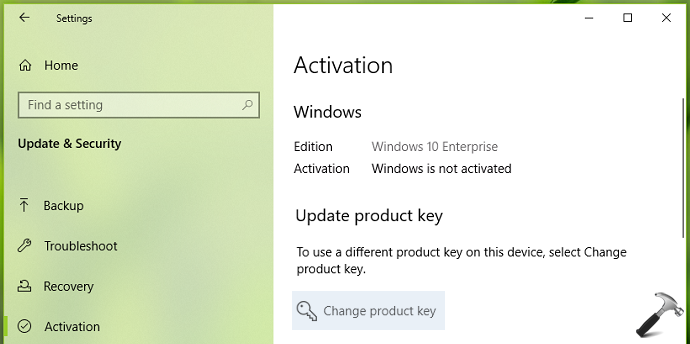 2. Under Enter a product key, type the 25-character unique product key and click Next.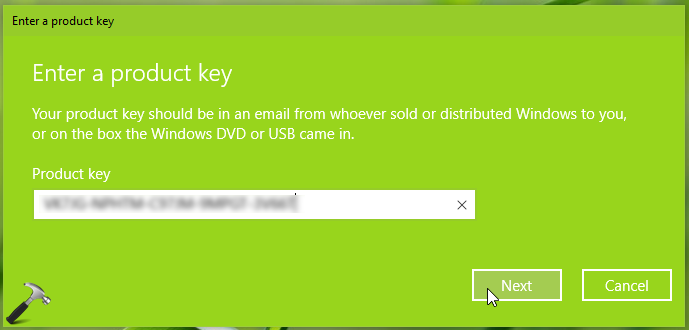 3. Then in Activate Windows, click on Activate button.

4. In moments, you'll receive Windows is activated message. Click Close and enjoy your activated Windows 10 system.

If you face trouble activating using product key, use automated phone system or contact Microsoft chat support (FIX 2 mentioned here).
Method 2 – Via Digital License
Digital Licenses are introduced with Windows 10 which eliminates the requirement of product key because these license are stored on Microsoft servers. They're linked to the hardware but you can also link them to your Microsoft account, which will be helpful in re-activation.
Digital licenses are effective in these cases:
If you upgraded to Windows 10 from Windows 7 or 8.1 during free upgrade offer
Bought Windows 10 from Microsoft Store online
An activated Windows system which is upgraded to latest Windows Insider Preview build meeting eligible conditions.
To activate with digital license, all you need to do is to connect your system to the Internet. The system will automatically pull the activation information from Microsoft activation servers.
Digital licenses need to reactivate, if you make clean install after a hardware change. Follow steps mentioned in this guide for this. If you can't reactivate after hardware change, see this fix. If you face any other activation related issue, run Activation troubleshooter.
Hope you find the article useful!
Related: Activation Failed Because This Device Doesn't Have A Valid Digital Entitlement Or Product Key.